The Central Banks and Hedge Funds Are Buying Up The World.
Melissa Ciummei, a financial investor from Northern Ireland, has serious concerns that injection passports will be used more like data passports to control participation in society. She believes that this passport system was manufactured in order to help bring about a financial reset, replacing our failing fiat currency system. Because passports are so crucial for the successful implementation of this new financial system, mandatory vaccination of all citizens, young and old, will be imperative for the plan to succeed. Tune in to this in-depth interview for an insight into the economics at play behind the c19 narrative.
The Social Credit System and the "Health Passports" are about complete control over our economy. This can Reward you or Punish you in one second flat. We are so close to this because you are being compliant. You must stop this right now.
Data is the new Gold and being able to track your children with AI. What will happen to all the lower paid jobs? They will be gone. And think about what the Globalists are doing, they are going to round us up and put us in these containment camps. And They target the middle class people and small businesses because we no longer matter to the Global Elite.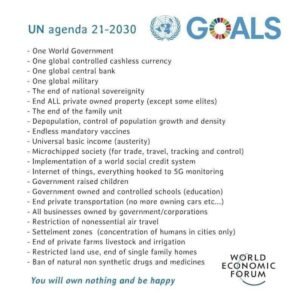 The Internet of Things Will Become The Internet Of Bodies. You will become Transhuman under this 4th Industrial revolution.
United Non Compliance.