Suspected Christmas parade terrorist identified as Darrell Edward Brooks Jr by multiple sources, out on bail for other offences, only released 2 days ago.
Terror attack in Wisconsin Christmas Parade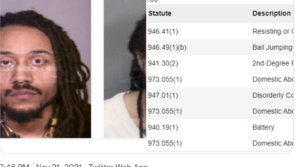 Reports of at least 2 dead in Waukesha Christmas Parade in Wisconsin in a Horrific Attack as the SUV drives away you can here shots fired.
One eyewitness told Fox News that he saw at least 30 people on the ground following the attack, according to Sam Kraemer of Fox 6. Another said the vehicle drove through a dance team of girls aged 9 through 15. At least 16 children have been admitted into the Emergency Department in Waukesha, according to Raheem Kassam of the National Pulse.
Footage of the Vehicle driving through the Christmas parade in Waukesha Wisconsin pic.twitter.com/GvS7FglY9g

— MelvinB📡 (@MelvinBGlobal) November 22, 2021
Footage of the SUV entering another part of the crowd during the mass casualty event in Waukesha Wisconsin at a Christmas parade. pic.twitter.com/6rLE39w4gk

— MelvinB📡 (@MelvinBGlobal) November 22, 2021
How many more acts of terror will there be this year? Will there be False Flags With the boarders open and the Fed's just letting everyone in no matter of criminal record, identification, no vetting? Just an open boarder to Many Terrorists to the American People. This is what the Globalists want to try to distract the problems they are in for the Nuremberg Trials that should be in 2022. Wake Up People This is what they want, a decline in civilization so they can grab power and submit the people. BLM and Antifa are terrorist organizations.