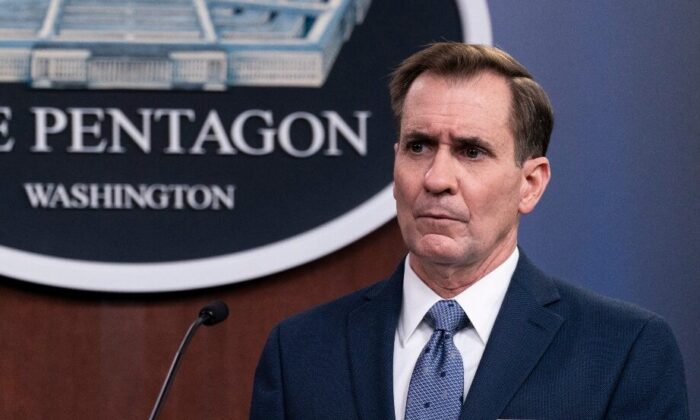 Pentagon 'Not Able to Answer' If Workplace BLM Advocacy Is Partisan
Defense Department press secretary John Kirby said Monday that he was unable to answer whether it is considered politically partisan for service members to advocate for Black Lives Matter (BLM) while at work.
Asked at a press briefing whether workplace BLM talk was "considered partisan," Kirby said he was "not able to answer that question" and that the discussion as to why could "go down a rabbit hole on a million different things."
"What we're trying to get after here is the kind of ideology that inspires conduct and behavior that, as I said, is prejudicial to good order and discipline," Kirby said, referring to an effort by the Pentagon to combat "extremist ideology and conduct" in the military that Republicans have called a partisan "political purge."
Kirby said "it's not about one side or the other on the aisle."
"It's not about what god you worship or choose not to worship. It's about ideology that inspires you or can inspire others to bring harm inside the force, and that's what we're trying to get after," he added.
The exchange came as the U.S. Navy reportedly told sailors in its training on extremism that they should not discuss "politically partisan issues," but greenlighted discussion on BLM, which it described as a "public policy issue."
The training slides, which were obtained by Fox News from a U.S. military official who took part in the training at the Pentagon, state: "Advocating for or against a public policy issue is authorized as long as the behavior is otherwise lawful and the advocacy is not politically partisan in nature."
Not too long after being confirmed by the Senate as the new Defense Secretary, Lloyd Austin ordered a 60-day stand-down for all military units to conduct training on and discussion of "extremism" in their ranks with every service member.
"It concerns me to think that anyone wearing the uniform of a soldier, or a sailor, an airman, Marine, or Guardian or Coast Guardsman would espouse these sorts of beliefs, let alone act on them," Austin said in a video released last month by the Pentagon, referring to unspecified "hate groups and their sympathizers."
"But they do. Some of them still do."
First emerging in 2013, the BLM movement initially appeared in response to excessive use of deadly force in law enforcement actions, which many argue disproportionately affects the black community. The non-profit organization that bears the same name, however, goes much further, advocating for radical-left ideas such as the abolishment of police and prisons, and the dissolution of the nuclear family.
"We disrupt the Western-prescribed nuclear family structure requirement by supporting each other as extended families and 'villages' that collectively care for one another, especially our children, to the degree that mothers, parents, and children are comfortable," the organization's website reads.
BLM co-founder Patrisse Cullors has described herself and fellow co-founder Alicia Garza as "trained Marxists."
The BLM movement, as well as the BLM organization, gained global attention during the summer of 2020, which was marked by widespread protests involving the group in the aftermath of the death of George Floyd, who died in police custody in May last year. Many of those protests turned violent, resulting in rioting, looting, arson, and destruction of private and public property.