As British Columbians were starting to get COVID-19 vaccinations in December 2020 and the first half of 2021, health officials were behind-the-scenes carefully tracking serious side-effects from the shots, according to documents recently released under the Freedom of Information Act.
Although the 42-page released contains few examples of severe reactions, those that were flagged sparked immediate responses from health leaders who were monitoring the millions of Canadians getting the new vaccinations.
A June 7, 2021 email to Dr. Bonnie Henry, B.C.'s provincial health officer, revealed that a person in the Interior Health region suffered a "severe stroke" after getting the Pfizer vaccine, which was deemed to be "an adverse reaction" to the shot.
"Doctors in B.C. … agree that the vaccine was the catalyst for his stroke. We cannot change this for (name redacted) but investigating this might prevent someone else from suffering the same outcome," said the email. The sender's name was removed.
Henry asked officials to follow up, but Interior Health's detailed response was also erased from the FOI documents, so it is difficult to tell whether this was an isolated case. The Journal of the American Medical Association, though, published research in November, 2021, showing no increased prevalence of stroke following vaccine shots.
After COVID vaccines first arrived in B.C. in mid-December 2020, the initial doses were given to front-line health care workers and employees of long-term care homes. The next to receive shots in the first months of 2021 were senior citizens and older Indigenous people, followed by first responders, teachers, child care staff, and other workers deemed to be essential.
In early June 2021, Kelowna-Lake Country MLA Norm Letnick received an email from a constituent raising concerns about a man who developed Guillain-Barré syndrome and Bell's Palsy shortly after receiving the AstraZeneca vaccine. The patient was released from hospital in a wheelchair and his recovery was estimated to take up to a year, the email said.
"It is truly heartbreaking to see this (man) totally incapacitated so quickly by this vaccine," the woman wrote to Letnick.
The email was forwarded to Henry, who said Guillain-Barré is most often related to an infection, "but has been associated with vaccination." She said the B.C. Centre for Disease Control was alerted and the case was under investigation.
Health Canada says "there are a small number of reports of people who have developed this rare (Guillain-Barré) disorder" after taking the AZ and Johnson&Johnson vaccines.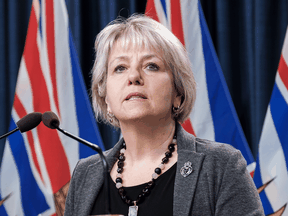 On May 18, 2021, a woman from Vancouver Island emailed Henry to say she had been diagnosed with blood clots in her lungs one week after getting the Pfizer vaccine. She said she had been prescribed medication but was facing a long wait time to see a blood specialist and hoped Henry could help expedite her appointment.
She also hoped Henry would "investigate further as to why my first vaccine resulted with blood clots in my lungs and to add these findings to the ongoing research."
The B.C. Centre for Disease Control website says "rare cases of serious blood clots" have been reported after people received the AstraZeneca or Johnson&Johnson vaccines, but makes no mention of Pfizer.
On March 25, 2021, a Disease Control epidemiologist emailed Henry with significant concerns about the AstraZeneca vaccine, including higher fatalities, young age of patients, and "excess" risks.
"I urge that decision makers review this information as soon as possible to consider whether to pause the use of AZ/Covishield until further investigations are completed," Dr. Eleni Galanis wrote.
Several days later, the vaccine was paused for those under the age of 55 over concerns it may be linked to rare blood clots, but continued to be administered to people older than 55. Later that spring, it was no longer recommended to be used as a second dose for any age group.
An Indigenous man from Northern Health, who had an anaphylactic reaction to his vaccine in December 2020, was one of several allergy concerns raised in the FOI.
On March 11, 2021, the Disease Control Centre's Dr. Monika Naus told Henry in an email that B.C. was reporting higher rates of anaphylaxis linked to vaccines than the Canadian and U.S. averages.
A Jan. 17, 2021 email from the Public Health Agency of Canada reported the death of an prisoner in a B.C. prison after receiving the Moderna dose, although the Correctional Service of Canada did "not consider the death to be linked to the vaccine."
Henry responded that she has been working with her counterparts across Canada about how to report deaths that occur shortly after a vaccine, even if the vaccine was not the cause, given that vulnerable populations were receiving the first shots.
It was impossible to determine the accuracy of all the concerns raised in the FOI. For example, the documents included an email from Dr. Charles Hoffe saying his Lytton-area patients suffered ill effects after getting vaccinated.
The B.C. College of Physicians and Surgeons, though, would later allege that Hoffe had made "misleading, incorrect or inflammatory" statements about COVID, including that vaccinations cause "microscopic blood clots that cause serious neurological harm, female infertility and a high number of deaths."