Connecticut to Deploy National Guard to Address Staffing Shortages Due to Vaccine Mandate
Lamont called on state employees to comply with the mandate out of "respect [for] their coworkers and the public," and to lead by example. We conspiracy factualists said the Military would be on the streets in October, and here we are, they are coming in like its normal to can your staff and bring in the military…lol
"We have provided most state employees with the option to get tested weekly instead of getting vaccinated, providing more flexibility than our neighboring states," Lamont said in the statement. "We have also provided our employees with a compliance grace period. There is no reason all our employees should not be in compliance. I continue to count on state employees to lead by example and to respect their co-workers and the public by complying with this executive order, which is the law."
The COVID-19 vaccine mandate, which was enacted in Connecticut in mid-August, requires all state employees and staff of all childcare facilities and pre-K to 12 schools statewide to receive at least one dose of the vaccine by Sept. 27.
The Governor's executive order (pdf) allowed for medical and religious exemptions from vaccination that would be granted "on an individualized, case by case basis." Exempted employees are required to undergo mandatory weekly testing against the CCP (Chinese Communist Party) virus, which causes COVID-19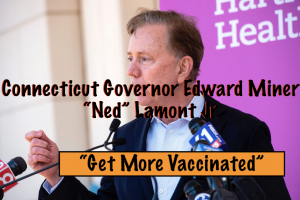 However, state hospital and long-term care employees are not given the option of being exempted and tested in lieu of vaccination.
The original deadline for workers to comply with the mandate was extendedby a week to Oct. 4.
Maj. David Pytlik with the Connecticut National Guard told News 8 WTNH, "At this time, we haven't been asked to support any particular function, but we will continue to monitor and prepare as necessary."
The National Guard has different types of units and its members have different types of skill sets.
Typically Connecticut National Guard focuses on "protect life/limb/eyesight and property" but during the CCP virus pandemic it stepped up to support critical tasks such as skilled nursing facility inspection, distributing food, and delivering personal protection equipment, the statement said.
"The last two years have taught us to be flexible and that we may be called upon to support the state in new ways," the National Guard said in its statement.