Brandon Lavoie – Pfizer July 2021 Severe Adverse Reaction: Myocarditis, 3 Days After Receiving Pfizer Jab Aged just 23 years, Brandon…
Carolina Monteiro Bourque – Moderna March & June 2021 Severe Adverse Reactions – Explained in text and video, although now September…
Malaka Rizkalla – Pfizer 5th Sept 2021 Died 7th September 2021 From Heart Attack Age 15 Years Old We have been sent this story by many reliable…
Parker Dale – Johnson & Johnson 5th April 2021 Severe Adverse Reaction: 11th May 2021 – Bilateral Pulmonary Embolisms Aged 18 Years…
Hoffman-Strang – Pfizer 2021 Severe Adverse Reaction Aged 12 Portia Hoffman-Strang tells her sons story:It's been 3 days now – full of…
Bonnie Keefe – Pfizer July 2021 Severe Adverse Reaction: Cutaneous Leukocytoclastic Vasculitis Cutaneous Leukocytoclastic Vasculitis is an…
Fred Pye – Moderna 25th May 2021 Extreme Adverse Reaction: Paralysis, Heart Problems,Seizures & Tremors On May 25th,2021 Freddy suffered an…
Lisa Stonehouse – AstraZeneca: 21st April 2021 Died From Vaccine-induced immune thrombotic thrombocytopenia (VITT) 12 days after she got the…
Tenley Csolle – Moderna 30th December 2020 Severe Adverse Reaction Aged 22 Years Tenley, a creative, athletic, and vibrant 22-year-old, had…
New laws in Alberta and Quebec that bar COVID-19-related protests from outside many public institutions raise concerns about curtailment of free expression, with one civil liberties lawyer describing the clamp-down as "political in nature."
In Quebec, public security minister Geneviève Guilbault tabled Bill 105 on Sept. 23 to ban demonstrations "in connection with health measures … vaccination … or any other recommendation issued by public health authorities" within 50 metres of daycares, schools, publicly funded colleges, and all health and social service institutions, including COVID-19 screening and vaccination clinics, whether stationary or mobile.
Those who protest within those boundaries face fines of $1,000 to $6,000. Anyone who intimidates or threatens people coming to or leaving those sites or trying to access services there would face fines of $2,000 to $12,000. The bill bans organizing or inciting people to hold such protests and allows fine charges to be doubled for repeat offenders.
Bruce Pardy, professor of law at Queen's University, told The Epoch Times that the Quebec law may have a weak spot.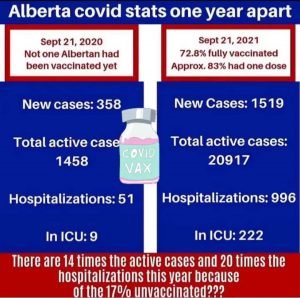 "Its vulnerability is that the ban extends not just to health-care facilities but also to schools and junior colleges, which weakens the argument that the purpose of the ban is to ensure safety and/or access to health care, but instead suggests that its real purpose is stifle expression of challenges to the government's COVID narrative," he said.
Public health orders that banned protests in British Columbia were struck down in March following a constitutional challenge by the Justice Centre for Constitutional Freedoms (JCCF). However, Pardy says that's no guarantee the Quebec law would fall.
"The B.C. ban on outdoor protests that was struck down in March was broader in scope," he said.
"Although the Quebec ban clearly restricts freedom of expression, it may not be found to be unconstitutional. Similar bans on the right to protest within a certain distance of abortion clinics have been upheld on the grounds that, although they violate freedom of expression under Section 2(b) of the charter, they are saved by the 'reasonable limits' exception in Section 1."
Alberta Premier Jason Kenney announced Sept. 28 that anti-vaccination protests and other demonstrations would be banned outside hospitals. The Critical Infrastructure Defence Act was amended to ensure that health-care facilities had the same legal protection as railways, highways, pipelines, and other essential public and private infrastructure. Repeat offences for trespassing, interfering with operations and construction, or causing damage could fetch fines of up to $25,000 as well as up to six months in prison.
JCCF staff lawyer Lisa Bildy believes the Quebec and Alberta laws are politically motivated.
"These restrictions are selective and political in nature and are an opportunistic way for governments to ensure that non-conforming opinions can't be expressed through peaceful protest in places where they might actually reach the intended audience," she said in an interview.
In the face of such laws, democracy is the loser, Bildy said.
"Peaceful assembly is constitutionally guaranteed because it's an effective way for a disenfranchised minority to collectively express its views," she explains.
"In a society where the majority doesn't want to hear opinions beyond its carefully curated echo chamber and isn't generally exposed to them through mainstream media, further limiting their expression is a concerning trend for a liberal democracy that thrives on the marketplace of ideas."
'Punitive Overkill'
The Quebec bill was fast-tracked into law the same day it was introduced, with the Conservative Party of Quebec's lone member at the Quebec National Assembly, Claire Samson, abstaining. Her successful amendment makes the bill expire in 30 days, though it could be renewed.
"It's not a small thing," Samson told the assembly. "Are we going to get a special bill every week to target a group of exhibitors?"
A day after the bill's passage, Andrés Fontecilla, a member with the Québec Solidaire party, told The Canadian Press the law was "security and punitive overkill" and said he was "angry" that it included public colleges since young adults "are perfectly capable of being exposed to political debate and making informed decisions."
Cara Zwibel of the Canadian Civil Liberties Association questions whether the Quebec law has a valid basis.
"We already have laws that can allow the police to deal with access to a health-care facility being blocked, and I would think also access to an education facility being blocked. And I don't really see the justification for creating new laws to deal with this rather than enforcing the ones that already exist," she said in an interview.
Zwibel said that although governments have their own motivations for reining in protests, doing so is undemocratic.
"Protests can be disruptive, and governments want to avoid disruption or what might appear like a sort of lack of order, but often the purpose of a protest is to disrupt," she said.
"So disruption in and of itself is not a sufficient basis for passing a new law. And we have to recognize that in a democracy, sometimes we're not going to like what people are saying, but that doesn't mean they don't have a right to say it."