PEP RCT 399 patients in Bulgaria showing significantly lower COVID-19 cases with ivermectin prophylaxis, and significantly lower cases with high viral load. No participant had severe symptoms, required oxygen, or was hospitalized. All patients with COVID-19 were treated with vitamin C and vitamin D.
This trial makes the Cochrane analysis report statistically significant efficacy for prophylaxis, although they do not appear to have acknowledged this yet. There are currently 4 prophylaxis RCTs, and all 4 show statistically significant efficacy of ivermectin. Cochrane ignored them by simply choosing to only include post-exposure prophylaxis RCTs, even though they were included for the paxlovid analysis with many of the same authors. At the time there were no post-exposure RCTs and they knew that including any one of the 3 pre-exposure prophylaxis RCTs would show statistically significant efficacy.
risk of case with high viral load, 

96.0% lower

, RR 0.04, p < 0.001
, treatment 4 of 200 (2.0%), control 99 of 199 (49.7%), NNT 2.1.
risk of case, 

71.6% lower

, RR 0.28, p < 0.001
, treatment 30 of 200 (15.0%), control 105 of 199 (52.8%), NNT 2.6, primary outcome.
Effect extraction follows pre-specified rules prioritizing more serious outcomes. Submit updates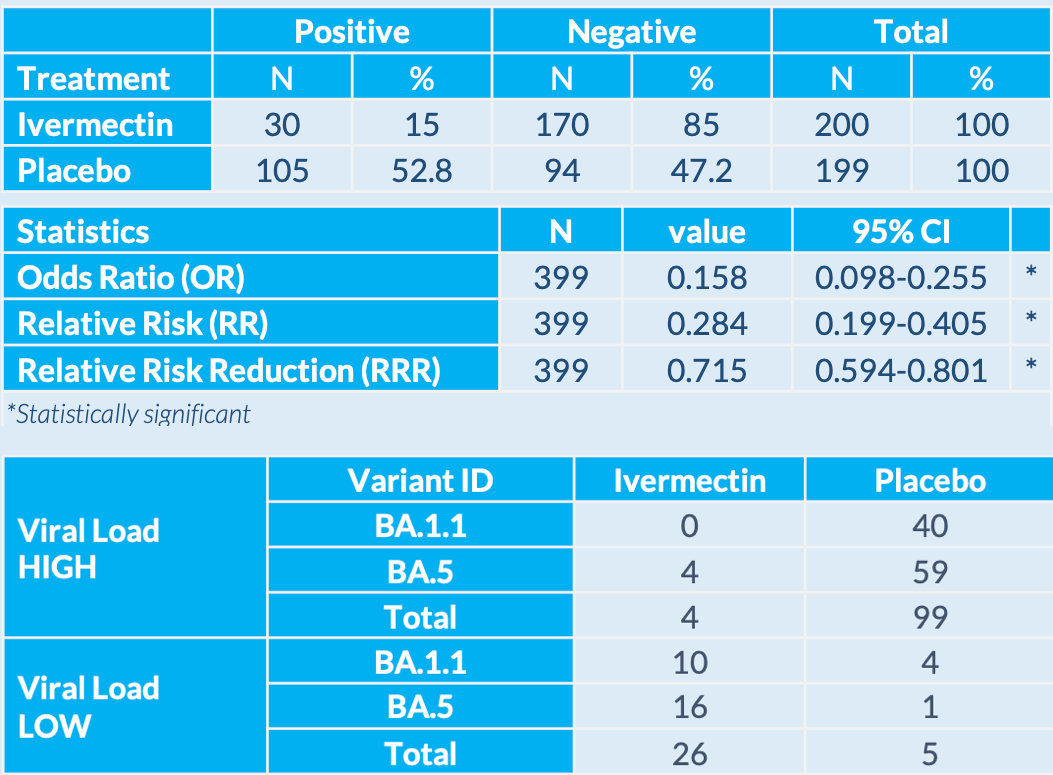 Desort-Henin et al., 5 Jan 2023, Double Blind Randomized Controlled Trial, placebo-controlled, Bulgaria, preprint, 5 authors, study period March 2022 – October 2022, dosage 200μg/kg day 1, 100μg/kg days 2-28, trial 
NCT05305560
(history)
 (SAIVE).
AI generated summary. Current AI models can provide useful summaries for non-experts, but may be inaccurate and have limited ability to analyze larger context such as the entire evidence base for ivermectin.
A randomized, double-blind, placebo-controlled trial found that ivermectin reduced the risk of infection following exposure to SARS-CoV-2 by 72%.
Ivermectin was also shown to be safe in doses and duration higher than currently used in approved indications.
Introduction
Ivermectin (IVM) is currently used to treat several parasitic diseases and has a proven safety profile over many decades of exposure. It is one of the several drugs explored for its potential therapeutic and preventive role against SARS-CoV-2 infection. Previous studies had reported its antiviral effects on both RNA and DNA viruses. Caly et al. demonstrated that a single dose of IVM could control the in vitro replication of SARS-CoV-2. Several mechanisms of action have been suggested for its effect on SARS-CoV-2. Those mechanisms could lead to an efficient SARS-CoV-2 prevention, independently of virus mutations. Post-exposure prophylaxis (PEP) is a method of preventing SARS-CoV-2 infection after a known exposure to the virus that may limit the spread of infection.
Method
The SAIVE Trial (NCT05305560) is a randomized, double blind, multicenter, parallel group, placebo-controlled clinical trial, assessing the efficacy and safety of ivermectin in a post-exposure population, conducted in 11 clinical sites in Bulgaria between March and Oct. 2022. The primary objective of the SAIVE trial was to evaluate the efficacy of a continuous administration of oral ivermectin as post-exposure prophylaxis against SARS-CoV-2 infection in confirmed contact cases. Additionally, this study would further reinforce the safety of continuous exposure to ivermectin, as evaluated in a previous phase 1 study (NCT04632706). Out of 400 enrolled, 399 participants were randomized in a 1/1 ratio to ivermectin or matching placebo. Main inclusion criteria was confirmed contact within 5 days with a positive COVID-19 case (assessed by RT-PCR). Primary endpoint was the proportion of confirmed infections between groups from baseline to day 28.
Conclusion
This study demonstrated highly statistically significant evidence in a large, randomized, double-blind, placebo-controlled study that daily oral treatment with ivermectin reduced the risk of infection following exposure to SARS-CoV-2. Ivermectin was also shown to be safe in doses and duration higher than currently used in approved indications.
Discussion
Ivermectin demonstrated a significant efficacy in preventing COVID-19 infection in a post exposure setting as compared to placebo group. The lower viral loads observed with ivermectin could potentially indicate a lower risk of disease severity and a lower contagiousness. We can hypothesize that ivermectin would be a valuable tool in the protection of at-risk populations, in addition to vaccination. Efficacy of ivermectin administration was similar regardless of the subvariant during the trial (60% of infections were related to Omicron BA.5 and 40% to BA.1.1) and the significance of results is equivalent to overall RRR on the whole population in both subgroups.