Beaver Exclusive
The Santa Fe County Sheriff's Office has arrested Alec Baldwin and charged him with first-degree murder as well as possession of child pornography, and ordered a media blackout that has been approved by a judge. Outlets in the United States are temporarily banned from reporting on Baldwin's arrest.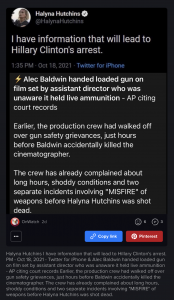 Baldwin is said to have killed the cinematographer and attempted to kill the director, Joel Souza in a dispute over payment. Baldwin tried to make it appear like it was an accident, but further investigation revealed it was anything but. According to the Los Angeles Times:
Hours before actor Alec Baldwin fatally shot a cinematographer on the New Mexico set of "Rust" with a prop gun, a half-dozen camera crew workers walked off the set to protest working conditions.

The camera operators and their assistants were frustrated by the conditions surrounding the low-budget film, including complaints about long hours, long commutes and collecting their paychecks, according to three people familiar with the matter who were not authorized to comment.

Safety protocols standard in the industry, including gun inspections, were not strictly followed on the "Rust" set near Santa Fe, the sources said. They said at least one of the camera operators complained last weekend to a production manager about gun safety on the set.
When Baldwin was arrested at his hotel, he was founded with over 1,000 images of child pornography on his phone and laptop. He faces multiple felony charges. Baldwin's lawyer did not immediately respond to requests for comment.
REVEALED
CHILLING ECHO
Alec Baldwin – Assistant director who 'gave star loaded gun' worked on sequel to The Crow where Brandon Lee was killed
THE assistant director who reportedly handed Alec Baldwin a loaded gun that led to the fatal shooting on the Rust film set worked on the sequel to The Crow, where Brandon Lee was killed.
Assistant director Dave Halls grabbed a gun from a cart an armorer had placed it on and handed it to the actor, believing that it was unloaded, according to a search warrant filed as part of the ongoing investigation.
Halls even told Baldwin the weapon was "cold," according to the warrant.
In an ironic twist, Halls also worked on The Crow: Salvation, the sequel to the 1993 film The Crow, where actor Brandon Lee was tragically killed in a similar gun mishap.
Lee, the son of martial arts legend Bruce Lee, died at age 28 after being hit by a .44-caliber slug while filming a death scene for the movie.
In that incident, a prop gun that was supposed to fire a blank let off a live round, killing the actor.
After Thursday's accident, Lee's family took to social media to send condolences for cinematographer Halyna Hutchins, who was killed, and director Joel Souza, who was injured in the shooting.
"Our hearts go out to the family of Halyna Hutchins and to Joel Souza and all involved in the incident on 'Rust,'" the family tweeted from an account dedicated to Lee. "No one should ever be killed by a gun on a film set. Period."