COVID-19 vaccine effectiveness against hospitalization turned negative over time, according to U.S. Centers for Disease Control and Prevention (CDC) data presented on June 15.
The effectiveness against hospitalization plummeted to negative 8 percent for people who received one of the old COVID-19 vaccines, according to data from a CDC-run hospital network.
A dose of one of the updated bivalent vaccines moved the protection above zero, to 29 percent, but the protection fell back to negative 8 percent beyond 89 days, the data show.
The protection estimates were for adults without a compromised immune system from Jan. 23 to May 24, when the XBB strain was dominant in the United States. The data came from people hospitalized at one of 25 hospitals across 20 states that are part of the Investigating Respiratory Viruses in the Acutely Ill network. Both cases and controls were hospitalized with COVID-like illness but the cases tested positive for COVID-19 and the controls tested negative for COVID-19.
"We see a pattern of waning against hospitalization," Dr. Ruth Link-Gelles of the CDC said while presenting the data to a U.S. Food and Drug Administration (FDA) panel as they consider updating the composition of the vaccines.
Link-Gelles didn't specifically comment on how the effectiveness turned negative but noted the wide confidence intervals for some of the effectiveness estimates.
The bivalent vaccines, made by Moderna and Pfizer, were introduced in the fall of 2022 with the hopes of improving protection against hospitalization and death after the old vaccines proved increasingly incapable of providing sustained shielding.
Dr. Robert Malone, who helped invent the messenger RNA technology utilized by the vaccine companies in their vaccines, said that the negative effectiveness is consistent with prior data such as a study from the Cleveland Clinic that found each successive vaccine dose increased the risk of infection.
Other papers have also estimated that protection against infection turns negative over time. Some datasets have indicated that vaccinated people were at higher risk of hospitalization, long seen as a surrogate for severe disease.
Researchers in one recent paper said that repeated vaccination—some Americans have received a half-dozen COVID-19 shots in under three years—weakens immune systems, potentially making people susceptible to life-threatening conditions such as cancer.
The estimates were negative even after CDC officials made adjustments for factors such as age, sex, and ethnicity. The median time since the last dose for the people who only received one or more doses of an old vaccine was 464 days. For the group who received a bivalent vaccine but saw effectiveness turn negative, the median time was 137 days.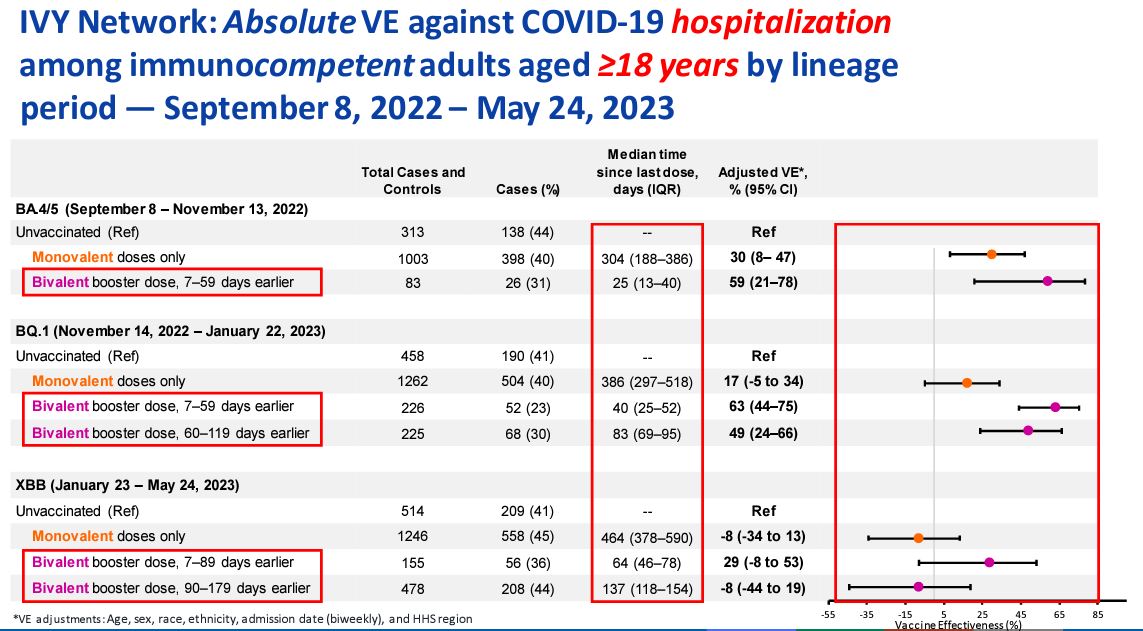 Other Data
Data from another network found that protection neared zero over time.
Among adults deemed immunocompetent after XBB became dominant, the protection from the old vaccines against hospitalization was measured at 9 percent in the CDC's VISION network. A shot of a bivalent vaccine increased protection to 51 percent, but the shielding plunged to 20 percent 90 to 179 days after the shot.
From September 2022 to May 2023, immunocompromised adults in the same network who only received an old vaccine had just 3 percent protection against hospitalization.
A bivalent shot increased the protection to 39 percent, although the shielding was reduced to 11 percent beyond 119 days.
VISION includes sites across 11 states, including Kaiser Permanente Northern California and Columbia University in New York.
Under half of each age group in the United States has received a bivalent dose, including 43 percent of those age 65 and older and 0.6 percent of 2- to 4-year-olds.
The CDC didn't present data on the effectiveness against infection.
XBB became dominant in the United States in January, displacing BA.5 and its subvariants. The bivalents contain a BA.4/BA.5 component in addition to the Wuhan component. The FDA plans to update the vaccines to target XBB and its sublineages for a renewed vaccine campaign in late 2023 and early 2024.
"We're concerned that we may have another wave of COVID-19 during the time when the virus has further evolved, immunity of the population has waned further, and we move indoors for wintertime," Dr. Peter Marks, an FDA official, said during the meeting.
Turn to 'Critical Illness'
Officials have increasingly been focusing on protection against so-called critical illness, or intensive care unit admission or death, as protection against hospitalization drops lower and lower.
Protection against critical illness from a bivalent was 58 percent initially and only dropped to 48 percent, according to data from VISION during XBB's predominance.
There weren't enough critical cases in the Investigating Respiratory Viruses in the Acutely Ill network to provide estimates of protection against critical illness, Link-Gelles said.
She said that patterns of waning with the bivalent vaccines "have been very similar to what we knew from the monovalent vaccine" and that U.S. officials don't make vaccine policy decisions "based solely on vaccine effectiveness data."
Limitations of the data include the high levels of prior infection, or natural immunity, and potential differences between unvaccinated and vaccinated people, officials said.