Sergio Agüero is due to announce his retirement from football on Wednesday because of a heart condition, six months after Manchester City's record scorer joined Barcelona as a free agent.
The 33-year-old experienced chest problems and breathing difficulties during the first half of Barcelona's 1-1 draw with Alavés on 30 October. Agüero fell to the turf at the Camp Nou clutching his chest and was treated for several minutes before being able to walk off. He was admitted to hospital for cardiological tests, the club later stating that he would be out for three months and would undertake a "diagnostic and therapeutic process".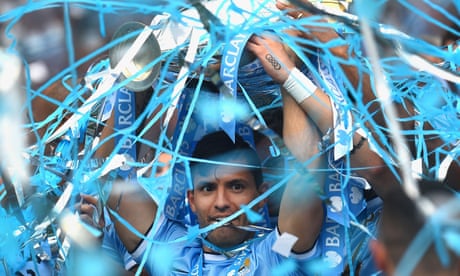 Agüero, though, is unable to resume a glittering 18-year-career that began at Independiente, when he became Argentina's youngest top-flight debutant. After three years the striker moved to Atlético Madrid in 2006, before signing for City in 2011.
His first season at the club ended in a career highlight when his 94th-minute winner against Queens Park Rangers snatched top spot from Manchester United and gave City a first title since 1968. A decade at the club saw him score 260 goals in 390 appearances, 184 of which were in the Premier League, a record for one team.
His final City appearance ended in the heartbreak of a Champions League final defeat by Chelsea, with another career low point being the 2014 World Cup final loss to Germany.
In five matches for Barcelona Agüero scored once, in a 2-1 defeat by Real Madrid. He found the net 41 times in 101 games for Argentina.
As we approach the end of the year in Canada, we have a small favour to ask. We'd like to thank you for putting your trust in our journalism this year – and invite you to join the million-plus people in 180 countries who have recently taken the step to support us financially, keeping us open to all, and fiercely independent.
In 2021, this support sustained investigative work into offshore wealth, spyware, sexual harassment, labour abuse, environmental plunder, crony coronavirus contracts, and Big Tech.
The new year, like all new years, will hopefully herald a fresh sense of cautious optimism, and there is certainly much for us to focus on in 2022 – a volley of elections, myriad economic challenges, the next round in the struggle against the pandemic and a World Cup.
With no shareholders or billionaire owner, we can set our own agenda and provide trustworthy journalism that's free from commercial and political influence, offering a counterweight to the spread of misinformation. When it's never mattered more, we can investigate and challenge without fear or favour.
Unlike many other media organisations, Guardian journalism is available for everyone to read, regardless of what they can afford to pay. We do this because we believe in information equality. Greater numbers of people can keep track of global events, understand their impact on people and communities, and become inspired to take meaningful action.
If there were ever a time to join us, it is now. Every contribution, however big or small, powers our journalism and sustains our future. Support the Guardian from as little as CA$1 – it only takes a minute. If you can, please consider supporting us with a regular amount each month. Thank you.