"Part of the problem is mental illness and drug addiction, but it's not the entire problem," Kennedy continued. "In fact, we can solve the homeless problem in this country. If you look at West Virginia, it has one of the highest addiction rates in the country but homelessness is a minor problem there."
Kennedy said that homelessness, "has its own ideology" and added, "part of that is that only one in four poor people in this country are receiving housing vouchers."
The Democrat presidential candidate then claimed that the U.S. "could solve the problem of homelessness on the federal level by providing homeless vouchers, Section 8 vouchers to homeless people."
"And we ought to be doing that," Kennedy said. "It's more important than funding wars, it's more important than funding overseas adventures."
@teamkennedy2024In San Francisco to see the homeless situation with my own eyes If you like this video and want to help me be President of the United States go to Kennedy24.com and donate now
"We need to take care of Americans. Thirty-five percent of Americans today are on the precipice of ending up on a corner like this," Kennedy claimed. "Thirty-five percent of Americans do not make enough money to pay for their basic human needs, for transportation, for housing, and for food, and they are on a cliff where any of them could end up here."
"We need to rebuild our nation from the ground up, and that's what I'm going to do as president," Kennedy said.
Kennedy's proposal comes as San Francisco reels from the homeless problem that has seen the city streets littered with feces and used needles.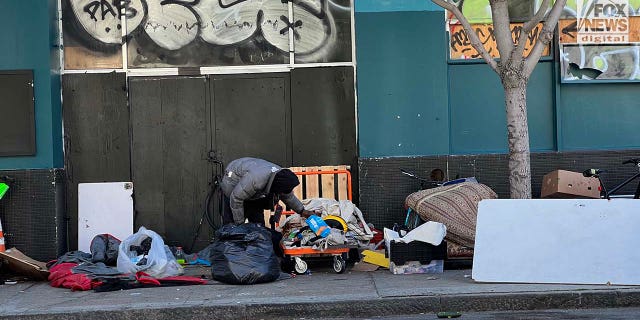 San Francisco residents in the Mission District fed up by homeless encampments raised over $25,000 dollars to install sidewalk planters to block homeless people from setting up tents there, local media outlets reported.
Locals told the San Francisco Chronicle that Harrison Street had been "taken over" by encampments for the past three years and was in "terrible shape." Neighbors described being threatened with violence as they passed by encampments. They revealed they were forced to take action because they didn't have help from the city.
"We're a growing group of 50+ neighbors who want to make our street more beautiful… But the city won't do it for us, so we are taking the lead and doing it ourselves," the neighbors said on their GoFundMe page. They said the 1400-lb. planters were suggested by District Supervisor Hillary Ronen's office because they were "too heavy to move and they compliment the streetscape."