Ottawa police issued 103 tickets and towed 12 vehicles amid convoy protests held at the city's downtown area over the weekend.
In a statement released July 23, the Ottawa Police Service said law enforcement was deployed to the city's downtown core and surrounding area that day in response to the protests, and that measures were taken to "minimize disruption to residents, businesses and visitors."
"When an uncooperative and large group of vehicles attempted to enter the downtown core, caused disruption to the regular flow of traffic in various parts of the city and refused to leave. As a result, one arrest was made, and Obstruct, and Public Mischief charges were laid," the police said.
"We discourage the use of vehicles for any form of demonstration or causing significant disruptions to allow us to serve our community."
In total, 103 tickets were issued, and 12 vehicles were towed.
The police also enforced other measures, including a temporarily closure of Hwy 417 off-ramps which they said was to "deter vehicle-based demonstrators from entering the downtown core." A vehicle exclusion zone was also set up in the city that day, with a heavy police presence there to monitor the convoy movements.
While the police didn't specify the nature of the protests, the Ottawa police indicated in several social media posts that they were aware of a protest involving farm equipment that was headed for the city on July 23.
Supporting Dutch Farmers
On July 23, massive convoy protests were held across Canada in support of Dutch farmers who are protesting the government's climate change policies that they say are threatening their viability.
At least 55 convoys hit the road that day in eight provinces: Alberta, British Columbia, Manitoba, New Brunswick, Nova Scotia, Ontario, Quebec, and Saskatchewan.
In Ottawa, vehicles convened in the Kanata area to form a convoy, while other protesters gathered downtown to cheer on protest vehicles as they passed by. The protestors also marched across the city in a "freedom parade," past the War Memorial and on to Parliament Hill.
In one incident, police removed a table protesters had set up to distribute pamphlets containing information about the protest, saying that a permit is needed to have such a table according to bylaws.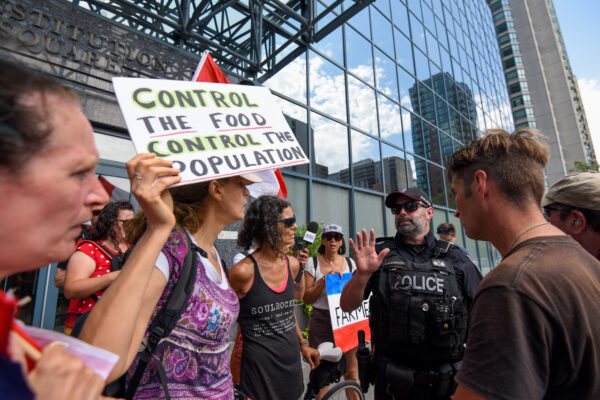 The protests in the Netherlands erupted in June after the Dutch government issued a national and area-specific plan for curbing nitrogen greenhouse gas emissions, with some areas required to slash emissions by 70 percent, or even 95 percent, as it aims to reduce those pollutants by 50 percent nationwide by 2030.
In particular, the Dutch government proposed to cut livestock numbers in the country by 30 percent as part of the plan to radically reduce nitrogen emissions and ammonia, which are produced by the mixture of livestock's urine and feces.
These policies were introduced amid global food shortage concerns and skyrocketing fuel and fertilizer prices, which some farmers and experts say will exacerbate the crisis.
Last week, Canada's agriculture ministers from several provinces also raised concerns about similar food shortages hitting the country as the Liberal government introduces a plan to reduce fertilizer emissions.