On October 16, 2019, the top Democrat on the House Homeland Security Committee's counterterrorism subpanel, Rep. Max Rose (NY), led a letter signed by forty Democrats asking the State Department why they had not placed Ukraine's Azov Battalion on the U.S. list of "foreign terrorist organizations" (FTOs).
In the letter, the lawmakers compared the Azov Battalion to the Islamic State of Iraq and Syria (ISIS), and discussed how, Brenton Tarrant, the Christchurch, New Zealand mosque shooter, who massacred fifty-one people in 2019, had been radicalized by the "ultranationalist militia organization" which "openly welcomes neo-Nazis into its ranks".
"For Example, the Azov Battalion is a well-known ultranationalist militia organization in Ukraine that openly welcomes neo-Nazis into its ranks. The group is so well-known, in fact, that the 115th Congress of the United States stated in its 2018 omnibus spending bill that 'none of the funds made available by this act may be used to provide arms, training or other assistance to the Azov Battalion.' The United Nations has chronicled human rights abuses and incidents of torture in this group's relatively short history. Despite these facts, Azov has been recruiting, radicalizing, and training American citizens for years according to the Federal Bureau of Investigation.
The Christchurch, New Zealand massacre was a turning point for counterterrorism efforts. In his manifesto, the shooter claimed he had trained with the Azov Battalion in Ukraine, and he routinely wore a neo-Nazi symbol associated with them. Both the Poway, CA and El Paso, TX shooters said they were directly influenced by the terrorism committed at Christchurch. The link between Azov and acts of terror in America is clear."
The letter was signed by prominent Democrats such as Rep. Bennie G. Thompson, Rep. Eliot L. Engel, Rep. Jamie Raskin, Rep. Stephen F. Lynch, Rep. Jim Cooper, Rep. Gregory Meeks, Rep. Sheila Jackson Lee, Rep. Ro Khanna, and Rep. Al Green.
Violent white supremacist groups meet all of the @StateDept criteria for inclusion on the list of Foreign Terrorist Organizations, but for some reason they refuse to label these groups as terrorists that they are, hampering law enforcement's ability to keep us safe.
The Azov Battalion was formally incorporated into the Ukrainian National Guard on November 11, 2014, but has since been accused — by West Point's Combating Terrorism Center and the counterterror Soufan Center, to human rights organizations and international peace missions, and by the mainstream press — of being the nexus to a global terrorist movement responsible for war crimes, mass shootings, and organizing online in ways similar to jihadist networks.
Congressman Ro Khanna and progressive members of Congress tried for several years to end U.S. military aid to the Azov Battalion. They finally did so in the 2018 Defense Appropriation Bill, but Azov reportedly continued to receive U.S. arms and training despite the ban.
"White supremacy and neo-Nazism are unacceptable and have no place in our world," Rep. Ro Khanna (D-Calif.), an outspoken critic of providing lethal aid to Ukraine, said in a statement to The Hill. "I am very pleased that the recently passed omnibus prevents the U.S. from providing arms and training assistance to the neo-Nazi Azov Battalion fighting in Ukraine."
On March 10, 2022, Congressman Ro Khanna deleted a tweet saying, "the U.S. has been complicit in the rehabilitation and spread of neo-Nazis in Ukraine. Enough is enough! Our government must stand up to the Azov Battalion and other fascist groups."
After attempting to end U.S. military aid to the Azov Battalion in 2018 and asking to place the Ukrainian militia on the U.S. list of foreign terrorist organizations in 2019, every Democrat in Congress (and the majority of Republicans) voted to send more than $31 billion in weapons to Ukraine in 2022.
We also must ensure that these weapons do not reach white supremacist elements within the Ukrainian Army, such as the Azov Battalion. The House has repeatedly voted to block weapons deliveries to this group.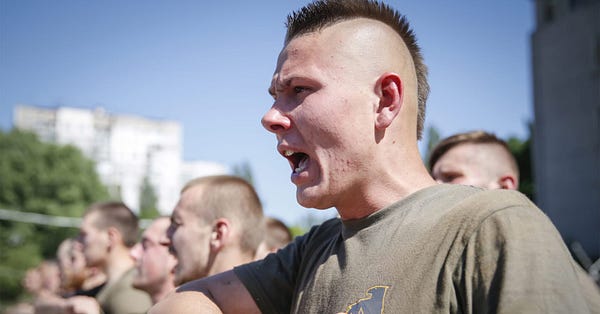 Is America Training Neonazis in Ukraine?Officially no, but no one in the U.S. government seems to know for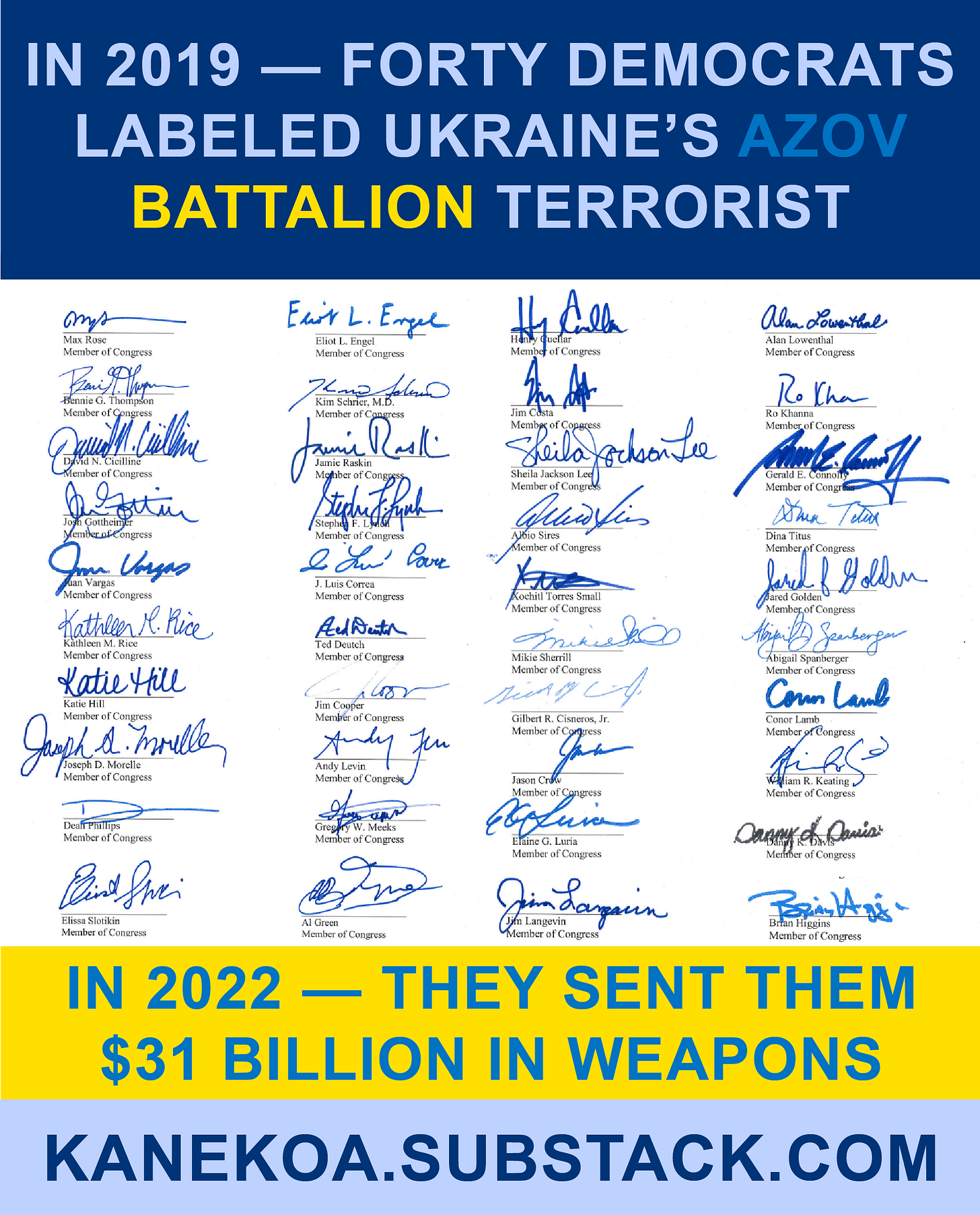 Apparently, the Democrat and progressive members of Congress who often call President Donald Trump and his supporters "white supremacists" and "Nazis" are more than happy to send $31 billion of advanced military weapons to an actual Ukrainian neo-Nazi foreign terrorist organization.