A former BBC radio presenter found guilty of stalking four people including broadcaster Jeremy Vine has been jailed for five and a half years.
Alex Belfield, who now runs a YouTube channel, stalked his victims by harassing them online.
His trial heard he made YouTube videos about them, posted messages on social media, sent emails, and also encouraged his followers to target them.
The judge said one of his victims came close to killing himself.
Belfield had harassed this victim, BBC Radio Northampton presenter Bernard Spedding, for nine years and some of his followers had sent him death threats.
"He was seconds away from taking his own life as a result of your conduct," the judge, Mr Justice Saini, told Belfield.
"You made this highly successful and confident radio presenter lose all joy in life and turned him into a shell."
'Weaponised the internet'
The judge said that while Belfield did not physically approach or watch his victims, the effects were just as damaging.
"The stalking you committed was not the conventional type which is popularised in the press," he said.
"Your methods were, however, just as effective as a way of intimidating your victims, and were in many ways much harder to deal with."
The judge said he agreed with some of the witnesses in the case, who said Belfield had "weaponised the internet".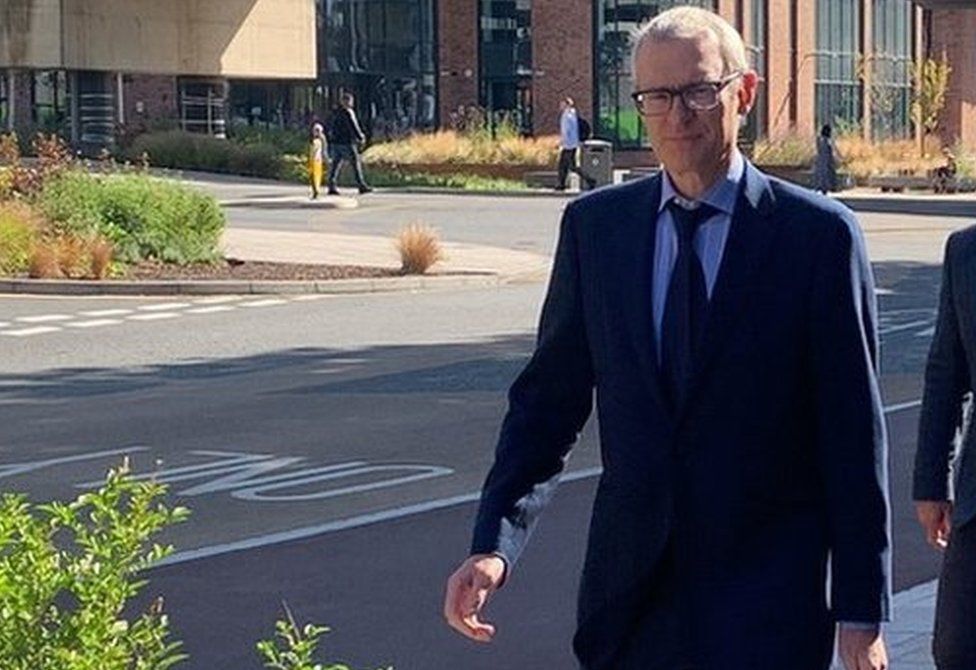 Belfield, who is 42 and from Nottingham, was originally charged with stalking eight different people, who were mostly current or former BBC staff.
The full wording of the charges stated he "pursued a course of conduct that amounted to harassment" of the complainants, which "amounted to stalking" and caused them "serious alarm or distress".
He was found guilty of this offence in relation to two of the complainants – Mr Spedding, who is known as Bernie Keith, and videographer Ben Hewis.
For each of these charges he was sentenced to two and a half years in prison, to run consecutively.
The judge said Belfield "bombarded" Mr Spedding – who had previously been friends with Belfield – with Facebook messages and emails, and made "highly abusive" YouTube videos containing false allegations.
"He had no escape from you," the judge told Belfield.
The judge said it was an aggravating factor that Belfield's harassment was public, as this caused his social media followers to also abuse Mr Spedding over a "lengthy period".
"In some cases this has extended to death threats," he said.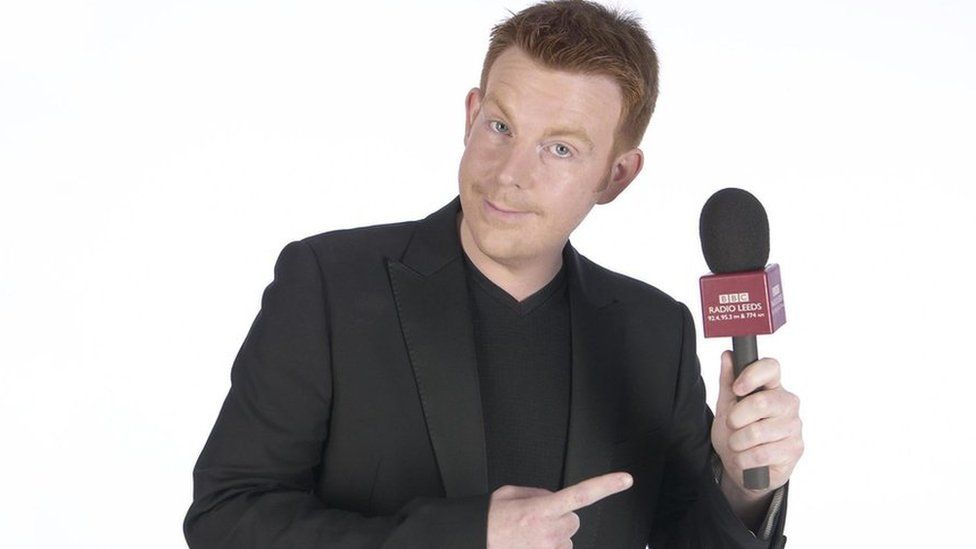 Victim personal statements were not read out in court, but Mr Hewis tweeted his after the sentencing.
"From his very first email and in the majority of communications thereafter, he used my wife and children as his main weapon to terrify, intimidate and blackmail me," he wrote.
"Blocking was also a futile exercise as Belfield continued to seek out new ways to get to me when others failed. When blocked on Twitter he used other accounts to see what I was tweeting and routinely publicly mocked me to his social media followers, posting screengrabs he could only have obtained by using an account that I hadn't blocked."
'Wholly false' allegations
In relation to Jeremy Vine and theatre blogger Philip Dehany, Belfield was found guilty of two lesser offences of "simple" stalking, which does not require serious alarm or distress to be proved.
For each of these offences he was sentenced to 13 weeks, also to run consecutively.
The judge said Belfield had made "wholly false" allegations about Mr Vine stealing £1,000 of BBC licence payers' money, in a video which was viewed by more than 400,000 people.
"You were not a whistleblower in any sense but developed a fixation with pursuing Mr Vine with a campaign of abuse," the judge said.
Belfield also published Mr Vine's address to a "mass audience", the judge said.
"Although you at no stage committed any physical acts, Mr Vine considered himself and his family to be at risk from you and his followers," the judge told Belfield.
"He had to ask his family to watch out for you and to take care in and around their home address."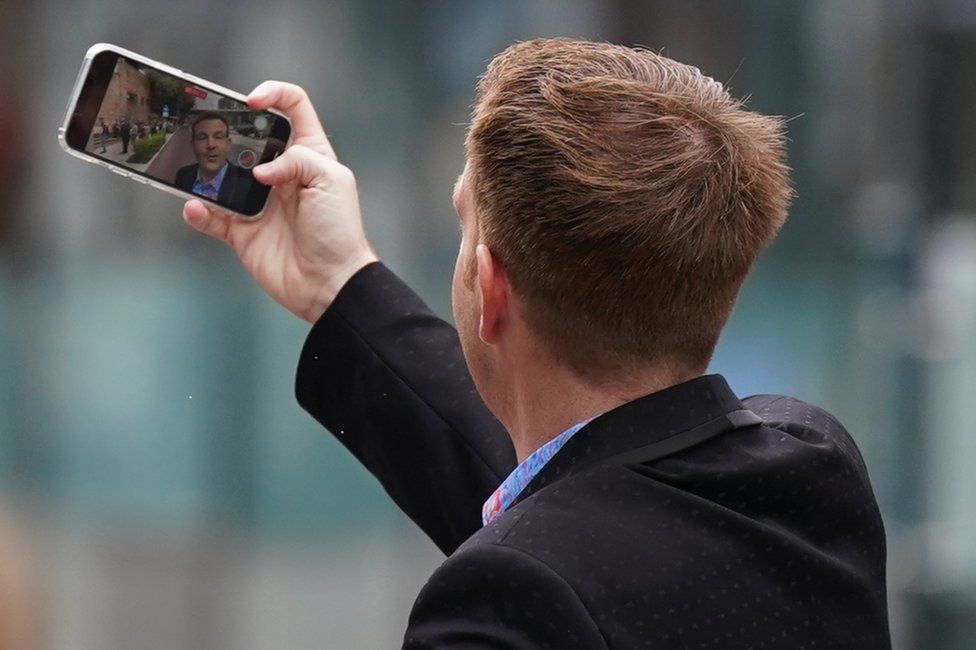 Belfield was found not guilty of stalking Rozina Breen, Liz Green, Helen Thomas and Stephanie Hirst.
Ms Breen had been his boss at BBC Radio Leeds, Ms Green had been a fellow radio presenter, Ms Thomas had been Ms Breen's boss, and Ms Hirst joined BBC Radio Leeds as a presenter after Belfield left.
'Horrific, vicious, cowardly'
The judge made restraining orders in relation to all of the complainants, including those Belfield was not convicted of stalking.
In relation to the women, the judge said: "Each of them suffered a campaign of harassment by email and social media communications. Each of them suffered serious mental health problems arising from Mr Belfield's conduct."
The judge explained he did not question the verdicts of the jurors, but was applying the civil standard of proof when making the restraining orders.
Ms Breen tweeted that she was glad to finally have justice after 10 years.
"Despite four women not securing guilty verdicts, today's custodial sentences are a welcome relief," she wrote.
"Stalking is a crime. Horrific, vicious, cowardly."
The verdicts in relation to each complainant, in the order they appeared on the indictment, were:
Rozina Breen – not guilty
Liz Green – not guilty
Helen Thomas – not guilty
Stephanie Hirst – not guilty
Bernard Spedding – guilty (majority verdict)
Ben Hewis – guilty (unanimous verdict)
Philip Delany – not guilty to the charge on the indictment but guilty of the alternative charge of "simple" stalking (majority verdict)
Jeremy Vine – not guilty to the charge on the indictment but guilty of the alternative charge of "simple" stalking (unanimous verdict)
In mitigation, barrister David Aubrey KC said Belfield had not intended to cause his victims distress, but could now see that he had.
"He now has developed the insight that he didn't have before," Mr. Aubrey said.
"He said he could see their distress in court and feels deeply sorry for what he did."
The judge told Belfield he will serve up to half of his sentence in prison and the remainder on licence. He warned him he could then be recalled to prison if he commits a further offense.