Lauterbach: "The arguments against compulsory vaccination are scientifically wrong."
I usually avoid such ad hominem accusations, but German Minister of Health Propaganda Karl Lauterbach is plain dangerous and has gone completely berserk.
Despite all the available evidence, he is still pushing for ratifying compulsory vaccination against that common cold virus. That scientific impostor has been a pharma lobbyist his whole life and needs to be stopped immediately.
Unfortunately the left-winged German government is still backing this wacko, while censoring everybody who speaks out against bio-fascism (or bio-techno-communism how many of you guys would put it).
Harsh but truthful words.
Ich fürchte, die Antwort lautet 'JA'.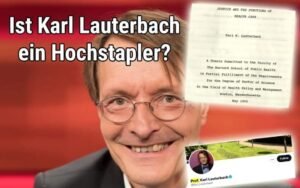 Ich bin Wissenschaftler und habe viele Bachelor-, Master- und Doktoranden betreut. Ich weiß also, wovon ich spreche, wenn ich wissenschaftliche Arbeiten bewerte.
Prof. Dr. Karl Lauterbach ist Gesundheitsminister und hat an der Harvard School of Public Health promoviert. Heute habe ich mir die Zeit genommen seine Dissertation zu lesen, die zwar offline genommen wurde, aber hier (https://web.archive.org/web/20200805164711/https://www.karllauterbach.de/justice-and-the-functions-of-health-care) weiterhin zugänglich ist.
Ich habe ehrlich gesagt noch nie eine so unwissenschaftliche Dissertation gelesen. Sie ist voller philosophischen Weisheiten, enthält jedoch keine klaren Hypothesen, Experimente, Datenanalysen… nichts! Sein wissenschaftlicher Essay wäre bei mir nicht einmal als Semesterarbeit durchgegangen.
Und dennoch wurde er promoviert und drei Jahre später von der Universität Köln zum Professor ernannt, ohne dass er eine Postdoc-Phase absolviert hätte und dem üblichen Tenure Track gefolgt wäre. Das riecht nach Korruption und wirft viele weitere Fragen auf.
Liebe Grüße,