Documents obtained by the Canadian Taxpayers Federation covering household expenses of Prime Minister Justin Trudeau and his predecessor, Stephen Harper, list an average of $54,494 annually on "miscellaneous food expenses" billed to the taxpayer after customary reimbursements by the prime minister. That works out to a little over $1,000 a week.
"The prime minister also reimburses internet and courier charges for personal correspondence."
Questions about what these "miscellaneous expenses" pertain to — if they're directly related to household grocery expenses or official functions carried out on behalf of the prime minister — weren't answered by the PMO.
Taxpayers can't get a straight answer on what the prime minister's household expenses were for
Requests for more information on current household expense policies likewise went unanswered.
Prime ministers typically don't shop for or prepare their own meals, relying instead on kitchen staff overseen by a household chef.
Shortly after his September 2021 re-election win, Trudeau recruited noted Montreal chef Chanthy Yen as his family's personal cook.
While the prime minister opted not to move into the now-dilapidated home he grew up in, the kitchens at 24 Sussex Drive are still used daily to prepare the PM's family meals.
Once prepared, the meals are transported by a courier just over a kilometre to Rideau Cottage — the two-storey, 22-room home on the grounds of Rideau Hall the Trudeaus have called home since 2015.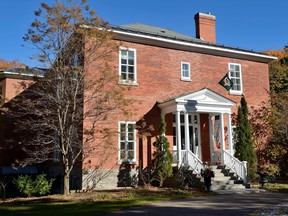 The documents include hundreds of pages of line-item expenses dating back to April 2007.
According to the Privy Council Office, records on household expenses weren't kept prior to 2006.
Net household food bills for Harper, his wife and two children cost taxpayers $417,745, or an average of $52,218 a year between 2007 and 2015.
Unreimbursed expenses for fiscal year 2013 topped $58,879 — the highest during Harper's time in office.
For Trudeau, household expenses for him, his wife and three children between 2015 and March 2022 cost $345,230, an average of $57,538 annually.
The costliest year for unreimbursed expenses for Trudeau was this year, with $76,213 picked up by the taxpayer.
Despite heavy redaction and detailed purchase descriptions not given until late 2009, expense lists for both PMs show staff didn't stray far from the official residences to purchase groceries.
Food purchases for both were split between the Loblaws, Metro and Farmboy supermarkets in Vanier, along with smaller specialty shops including Saslove's Meat Market, Adonis Mediterranean Market, La Bottega Nicastro Fine Foods, the House of Cheese, and frequent purchases from Cadmans Montreal Bagels.
Harper's records show six trips to the Beer Store and 26 purchases at Ontario liquor stores, while Trudeau's household only expensed two liquor store purchases and none from the Beer Store.
Trudeau has also spent $1,083 on Flow boxed spring water since September 2020.
"Each eco-friendly container is made from 100% recyclable, mostly plant-based, renewable materials, so you can hydrate sustainably," the company website says.
During his campaign to become prime minister, Trudeau ran on a platform of government transparency "by default."
After winning in 2015, promises for more transparency in everything from the PM's daily itinerary to streamlining Canada's broken access-to-information (ATI) system have largely gone nowhere.
Earlier this year, a scathing report from Information Commissioner Caroline Maynard said the government lacks understanding of how bad issues are with ATI, with less than 20 per cent of information requests by Library and Archives Canada fulfilled within mandated deadlines.
Details on the prime minister's activities in his daily itinerary, particularly lately, have ranged from vague to fictitious — as evidenced by the PM marking Canada's first National Day for Truth and Reconciliation last year by vacationing in Tofino, despite his itinerary listing him as attending private meetings in Ottawa.
Franco Terrazzano, federal director for the Canadian Taxpayers Federation, described the reimbursement gaps as a "gaping policy hole" that needs immediate attention.
"A ton of money has been flying out the door for years, but taxpayers can't get a straight answer on what the prime minister's household expenses were for," he said, explaining the prime minister's household expenses must be made public, with a clear demarcation between government business and personal expenses.
"Trudeau must make it mandatory for prime ministers to post their household expenses online and for all family grocery bills to be paid for personally."