Is There Video Evidence Of Quarantine Camps
TAKE THE RED PILL VIDEO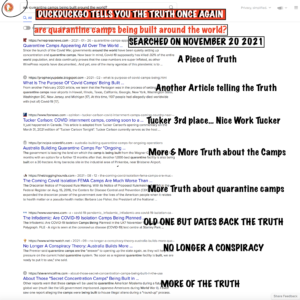 Here is the Video Evidence Of Quarantine Camps
Some of you know what I mean because you also have seen these same reports being sent around on the internet. They have also appeared in various tabloids and publications (mostly ones with a right-wing tone) which some people have occasionally sent to me over the last decade. These reports allege that the US Government is building a network of "secret concentration camps" on abandoned US military bases all over the USA. Reportedly, these secret camps are being prepared to be activated as functioning cities within security fences or borders with their own hospitals, barracks, etc.  Some of the more lurid reports warn that these "concentration camps" will be used to house Christians when the prophesied beast power assumes dominion over the nations. Other reports warn that these camps will be used to quarantine American Moslems during a future great global war (much like the US government imprisoned Japanese-Americans during World War II). I even saw one report alleging the camps were being built to house illegal aliens during a "round-up" process.
https://www.ccg-gcc.gc.ca/publications/concept-operations/6145-eng.html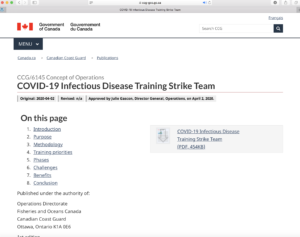 These worst-case scenarios are within the realm of possibility, but allow me to offer you a more benign explanation which fits a biblical context.  Remember first that not everything you read or hear is true. Millions have learned that various reports and tales passed along on the internet turn out to be untrue "urban legends." Almost nothing being reported on the internet is "under oath," so be sure to take sensationalized reports with a grain of salt
Those "secret camps" reportedly being built by the US Government on abandoned military bases may be part of a quite-reasonable contingency plan. There have been many terrorist attacks on many civilian locations around the world. These attacks have caused mass casualties, but they have not yet involved nuclear, chemical or biological terror attacks. Many official and private sources in high places have warned that it is not a matter of "whether" such an attack will occur in the USA, but only a matter of "when" and "where" it will happen. There have already been warnings about possible "radioactive dirty bomb" attacks, which, thankfully, did not occur. One involved the New York City subway system if my memory is correct.
To prepare for such attacks, FEMA and/or the Homeland Security Dept. should be making contingency plans re: how to respond to such a terrorist attack on American cities. If such an attack occurred in winter, there needs to be readily-available housing on a scale large enough to handle the evacuees of a major American city. It would be irresponsible not to make such preparations when such a danger exists. Constructing them on abandoned military bases makes great sense as no land needs to be purchased, basic facilities for large numbers of people already exist on such locations, and many have airfields or railway access. If the nation had to empty a large American city due to a terrorist attack (or imminent threat of one), it would be an excellent contingency plan which foresaw the need and had emergency camps available for large number of evacuees. These plans would logically remain "secret" and unpublicized as the government would have no desire to create a panic among civilian populations.
This blog is to reassure readers who also receive these reports of "secret concentration camps" being built around the USA that these "camps" may be emergency evacuee camps held in readiness to house people removed from a major American city in case of terrorist attacks. Such emergency facilities would need barracks, medical facilities, large kitchens, etc.
Interim Operational Considerations for Implementing the Shielding Approach to Prevent COVID-19 Infections in Humanitarian Settings