We are living in a Police State. How long before they tell us all we cant go out? Are they going to go further with this Communist Agenda and force these experimental vaccines on us. All while the CDC(Vaccine Adverse Event Reporting System (VAERS).) has proof of over 1500 deaths and 5000+ adverse reactions, some of which are could be life altering. We are under medical tyranny.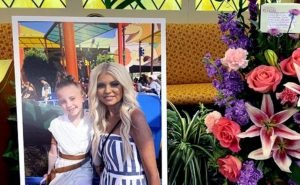 39-year-old woman dies 4 days after second Moderna vaccine, autopsy ordered
March 11, 2021 (Children's Health Defense) – A 39-year-old woman from Ogden, Utah, died Feb. 5, four days after receiving a second dose of Moderna's COVID vaccine, according to CBS affiliate KUTV.
Kassidi Kurill died of organ failure after her liver, heart and kidneys shut down. She had no known medical issues or pre-existing conditions, family members said.
KUTV uncovered the death as part of its investigation into COVID vaccine side effects. The investigation involved looking into reports submitted by Utah residents to the Vaccine Adverse Event Reporting System (VAERS).
According to The Salt Lake Tribune, there were four deaths in Utah reported to VAERS in January and February, including Kurill's.
KUTV reported that doctors at Intermountain Medical Center recommended Kurill's family request an autopsy, and the family agreed.
The medical examiner could not say whether the autopsy would be automatically forwarded to the Centers for Disease Control and Prevention (CDC) and U.S Food and Drug Administration (FDA).
Dr. Erik Christensen, Utah's chief medical examiner, said proving vaccine injury as a cause of death almost never happens. "Did the vaccine cause this? I think that would be very hard to demonstrate in autopsy," Christensen told KUTV.
Christensen could think of only one instance where a vaccine as the official cause of death would be seen on an autopsy report. That would be in the case of immediate anaphylaxis where someone received a vaccine and died almost instantaneously.
"Short of that, it would be difficult for us to definitively say this is the vaccine," Christensen said. "A more likely result would be a lack of answers or an incomplete autopsy."
An autopsy can provide answers to a family when no disease or red flags are found, or rule out other competing causes of death, Christenson explained. The lack of answers may help a family "understand if the vaccine was a possible cause."
Christiansen said vaccine deaths are possible and do happen. "Just about every vaccine or anything you do [to] treat someone, when you inject something has a potential for a negative outcome. I'm sure VAERS can verify other vaccines have led to death."