At least 21 babies under four weeks old died in September, a rate of 4.9 per 1,000 births.
Infant death rates vary widely from month to month, but the increase is larger than expected from chance alone.
Public Health Scotland (PHS) and other agencies will now look into whether the Covid pandemic or other factors could be behind the increase.
The average mortality rate among newborns is just over two per 1,000 births.
While all child deaths are investigated, the Herald newspaper reported that this wider inquiry was triggered when the mortality rate passed a "control" threshold, designed to pick up abnormal trends in infant deaths.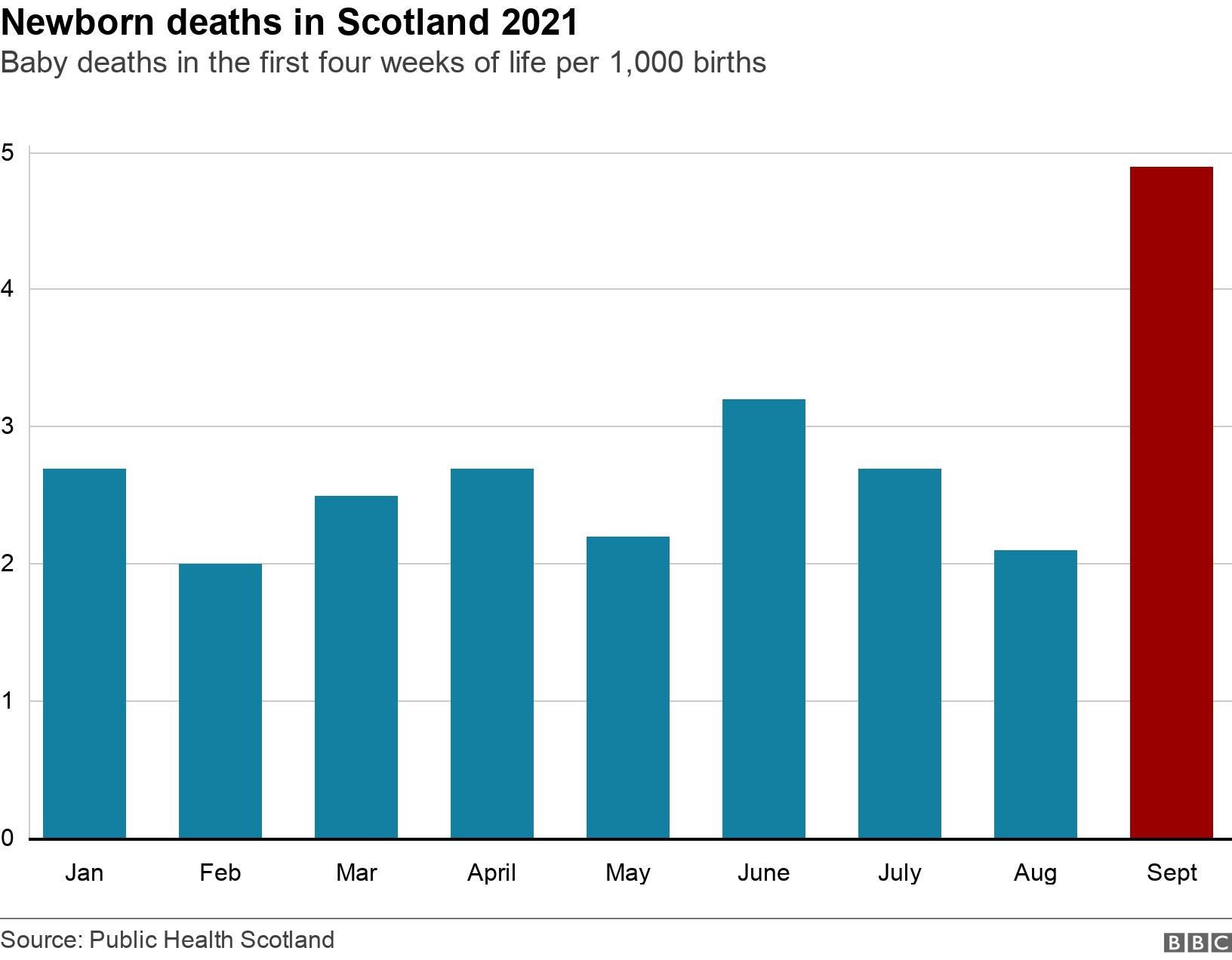 In a commentary on the figures, PHS says: "Exceeding the upper control limit indicates there is a higher likelihood that there are factors beyond random variation that may have contributed to the number of deaths."
PHS said there was "currently no indication of links between these deaths and Covid-19 infection" although the data will be examined further.
Pre-term deliveries
Dr Sarah Stock, an expert in maternal and fetal health at University of Edinburgh, said it was rare for newborn babies to become infected or seriously-ill with Covid but she said the virus could be having an impact in other ways.
"We know, for instance, that when pregnant women have Covid they can become seriously unwell, and in order to protect the mother and baby that can lead to pre-term deliveries," she said. "Pre-term delivery is the biggest driver of neonatal mortality.
"We also know that the pandemic has put a lot of pressure on health services and that could be having an impact."
PHS is now working with the Scottish National Neonatal Network , the Maternity and Children Quality Improvement Collaborative and the Scottish government to understand possible contributing factors.
Figures for the number of stillborn babies also increased in September but not beyond the upper warning or control limit.
Deaths of newborn babies have fallen steadily in recent decades with the mortality rate per 1,000 births dropping from double figures in the 1970s to 2.1 in 2020.
PROTEST AT LIONS GATE HOSPITAL AND RCMP ON NOV. 11
November 11th 1:00 – 3:00 Lions Gate Hospital Emergency Entrance, North Vancouver
Rally with Dr. Mel Bruchet and Dr. Daniel Nagase. They spoke to the RCMP, and then headed over to the emergency entrance. The Doctor will appreciate our support in standing with him to raise the awareness of the dangers of this experimental injection.
On average they would see 1 stillborn death a month. 3 dulas have reported that there were 13 stillborn deaths in a 24 hour period of women who had taken the experimental injection. The media is not reporting this. Big pharma looks after the media and the media is silent.
HEADSMAN POPOIS AT 15:05
WE ARE THE NEW DE JURE GOVERNMENT – REMOVAL OF CONSENT TO BE GOVERNED
Sign the petition (open to all people of 'Canada') to record your wish to expressly remove your consent to be governed by corporate politicians, corporate provinces and corporate CANADA that rule over you, not serve you. Peoples of the Salmon empower you to give lawful notice to the Governor General of non-consent to be governed by the corporation Canada/CANADA.
Notice of Denial/Removal of Consent
Deaths among Female Children Increased by 57% Against the 5 Year Average
A major cause for concern should be shown for the fact that deaths among female children are rising significantly against the five-year average. Not only because children statistically have an extremely low death rate, but because girls statistically have a much lower death rate than boys