Last week, geopolitical pundits were struck after three middle-eastern power brokers – among them one of the closest US allies in the Gulf region, Saudi Arabia which not too long ago rejected US appeals to pump more oil, signed onto an Arab League statement that did not condemn Russia and instead called for diplomacy, an avoidance of escalation and consideration of the humanitarian situation. We now know why.
In a recent interview in The Atlantic, Saudi Crown Prince Mohammed Bin Salman (MbS) was asked some tough questions concerning the Biden administration's taking a harder line on the kingdom and MbS personally compared to when Trump was in office.
In particular the murder and dismemberment of Saudi journalist and Washington Post columnist Jamal Khashoggi has brought MbS under continued international scrutiny, albeit for the most part global elites started cozying up to Riyadh again by a mere year out from the October 2018 gruesome killing at the consulate in Istanbul. Biden himself had previously said he would make the crown prince "a pariah" in global opinion.
MbS responded to The Atlantic on this point by saying, "I feel that human rights law wasn't applied to me," he said. "Article XI of the Universal Declaration of Human Rights states that any person is innocent until proven guilty." Thus he once again implied his own innocence in the killing.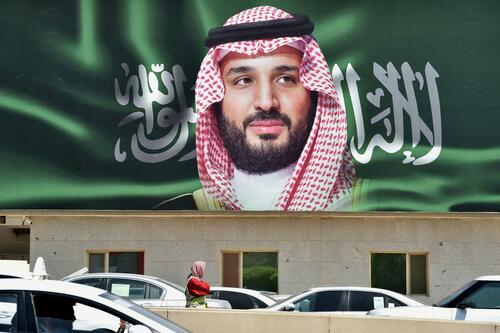 And perhaps even more interesting was his response when asked about the deteriorated relationship with the Biden White House, and whether he thinks Biden "understands" him. "Simply, I do not care," the crown prince said, and explained that it is up to Biden "to think about the interests of America."
"We don't have the right to lecture you in America," he said. "The same goes the other way."
He also warned Washington not to "interfere" in the kingdom's internal affairs, which also comes after years ago a high level CIA investigation named bin Salman as the top Saudi government figure that likely ordered the Khashoggi assassination:
The de facto ruler of the world's top oil exporter, known as MbS, also warned the United States not to interfere in the internal affairs of the absolute monarchy.
He said that assuming this doesn't happen, he's devoted to pursuing Saudi Arabia's "long, historical" relationship with the United States.
It's likely that MbS feels perfectly comfortable responding to Biden with tough words of "I don't care" about his personal relationship with the Democratic president given the weapons relationship has continued unabated.
Biden had actually campaigned on ending US involvement in the Saudi-UAE war on Yemen – but this hasn't happened. Instead the Pentagon has stayed the course in terms of providing targeting intelligence and the steady flow of advanced weaponry – alongside the usual defense contractors of course. So in many ways it's business as usual on this front.
But now with the Russia-Ukraine war raging, there's something Biden needs. Starting last month the US began urging Saudi Arabia to boost oil production amid rising energy prices and attempts to find additional supplies for Europe. This was part of what Biden at the time described as his "taking active steps to alleviate the pressure on our own energy markets."
That request was quickly rejected by the Saudis, as Middle East Eye reviewed at the time: "At an energy forum in Riyadh on Wednesday, Saudi Energy Minister Prince Abdulaziz bin Salman rejected calls to pump more oil and said renegotiating quotas among Opec members risked stoking more volatility in oil markets…"