Don't miss out on the headlines from Science. Followed categories will be added to My News.
A senior Pfizer executive has admitted that the drug company did not know whether its Covid vaccine prevented transmission of the virus when it began rolling out the shots globally.
Janine Small, Pfizer's president of international developed markets, was testifying before the European Union Parliament on Monday when she was asked the question by Dutch MEP Rob Roos.
"Was the Pfizer Covid vaccine tested on stopping the transmission of the virus before it entered the market?" Mr Roos asked.
"If not, please say it clearly. If yes, are you willing to share the data with this committee? And I really want a straight answer, yes or no, and I'm looking forward to it."
Ms Small — appearing in the place of Pfizer chief executive Albert Bourla, who had been called to testify but pulled out of the hearing earlier this month — replied that the company had to "move at the speed of science".
"Regarding the question around, um, did we know about stopping the immunisation [sic] before it entered the market? No, heh," she said.
"Uh, these, um, you know, we had to really move at the speed of science to really understand what is taking place in the market, and from that point of view we had to do everything at risk. I think Dr Bourla, even though he's not here, would turn around and say to you himself, 'If not us then who?'"
Ms Small said Dr Bourla "actually felt the importance of what was going on in the world, and therefore as a result of that, we actually, um, spent $US2 billion, at risk, of self-funded money from Pfizer, to be able to research, develop and manufacture at risk, to be able to make sure that we were in a position to be able to help with the pandemic".
Mr Roos shared a brief clip of Ms Small's response on Twitter, describing the answer as "scandalous".
"Millions of people worldwide felt forced to get vaccinated because of the myth that 'you do it for others'," he said in the video, which has been viewed more than five million times.
"Now this turned out to be a cheap lie. This should be exposed."
Mr Roos said the admission removed the entire basis for vaccine mandates and passports which "led to massive institutional discrimination as people lost access to essential parts of society".
"I find this to be shocking, even criminal," he said.
In the early stages of the global rollout, drugmakers and public health authorities claimed the shots would prevent transmission of the virus, with Dr Bourla stating in April 2021 that early trial data showed its vaccine was "100 per cent effective against severe Covid-19".
Initially a small number of so-called "breakthrough" infections were reported, but by late 2021 it had become clear the vaccinated were still catching and spreading the virus.
Health officials in countries including Australia now say that although the vaccines do not completely prevent transmission, they reduce the severity of the disease and so ease the strain on hospitals.
Earlier this year, White House chief medical adviser Dr Anthony Fauci admitted the Covid vaccines "don't protect overly well against infection, they protect quite well against severe disease leading to hospitalisation and death".
In January, Dr Bourla said two doses of the vaccine offered "very limited protection, if any" against the Omicron variant.
A nurse prepares a dose of the Pfizer Covid vaccine for children. Picture: Pedro Pardo/AFP
Speaking to EU Parliament, Ms Small cited a recent paper from Imperial College London which claimed that Covid vaccines may have prevented nearly 20 million deaths in their first year.
Imperial College has previously come under fire for its wildly inaccurate, catastrophic Covid modelling which saw the UK plunged into lockdown.
"And I think that's why I feel very good when a recent paper from the Imperial College stated that in the first year of the rollout of vaccines we saved four million people," Ms Small said.
"So from that point of view I feel that actually we were there when the world needed us to be able to make sure that we were able to help people around the world with vaccination as well as now oral treatment."
She added she would "hate to imagine what situation we would be in the world right now if companies like us did not take those risks, did not do clinical research and development at scale in order to make sure that we could have a vaccine that we could roll out to the world".
"I understand your frustrations, I really do," she said.
"But I also hope at some point, somewhere, you also do appreciate what pharmaceutical companies have done in order to be able to roll out and deliver vaccines at such speed and scale."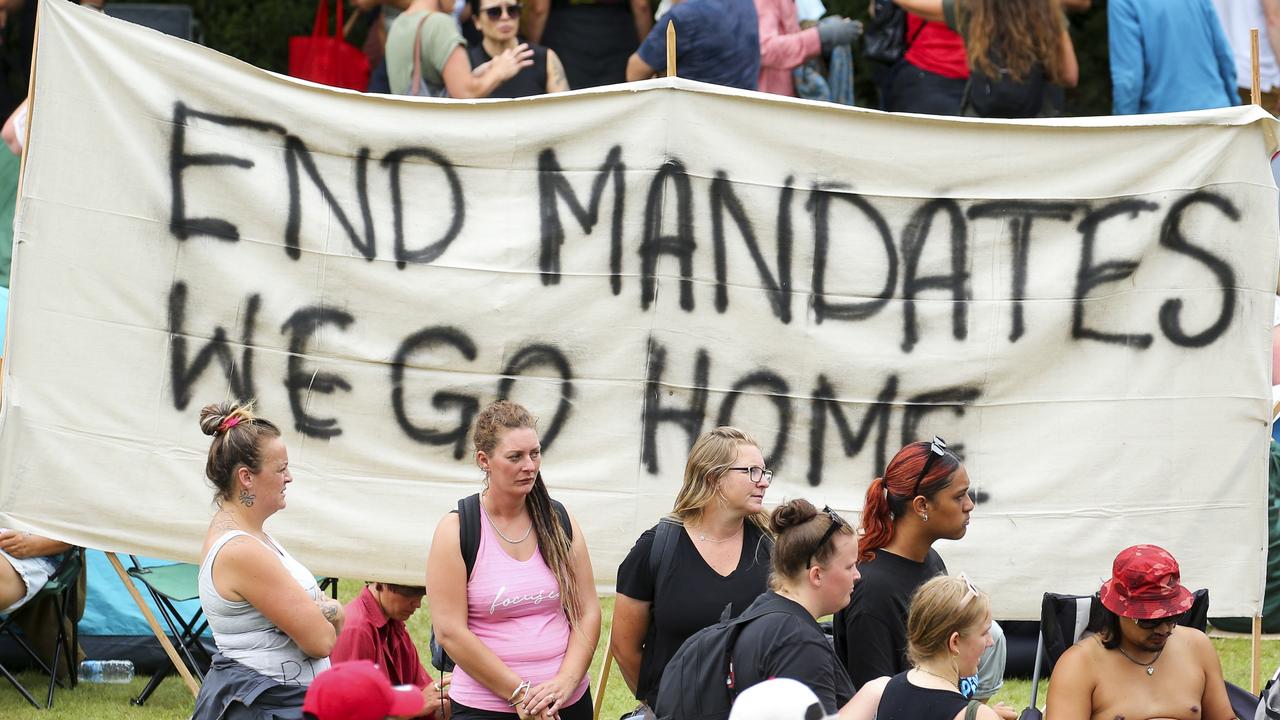 Protesters outside New Zealand parliament. Picture: Hagen Hopkins/Getty Images
Pfizer made nearly $US37 billion in sales from its Covid vaccine last year — making it one of the most lucrative products in history, The Guardian noted — with overall revenue doubling in 2021 to $US81.3 billion.
The US drugmaker reported annual profits of $US22 billion, more than double the previous year.
In a statement on Thursday, Pfizer said "regulatory agencies across the globe", including Australia's Therapeutic Goods Administration (TGA), had "authorised the use of BNT162b2 (Cominarty) for active immunisation to prevent Covid-19 caused by SARS-CoV-2 virus".
"These authorisations are based on robust and independent evaluation of the scientific data on quality, safety and efficacy, including our landmark phase three clinical trial," a spokeswoman said.
"Data from real-world studies complement the clinical trial data and provide additional evidence that the vaccine provides effective protection against severe disease. Since regulatory approval, the vaccine has helped protect billions of people from Covid-19. As of September 18, 2022, we have delivered more than 3.8 billion vaccines to 181 countries and territories in every region of the world."
In Australia, all of the provisionally approved Covid vaccines are indicated to "prevent coronavirus disease 2019 (Covid-19) caused by SARS-CoV-2".
A TGA spokeswoman said in a statement "transmission effects" were "not an approved indication of any Covid-19 vaccine".
"This is clearly stated in the Australian Public Summary Report (AusPAR) for each vaccine candidate," she said.
She said numerous studies had been conducted over the course of the pandemic looking at the effect of vaccination on transmission, but "since these studies were published, Omicron subvariants have become more prevalent, and these have been shown to be more transmissible than the initial subvariants".
"However, a report published in January 2022 on Omicron subvariants BA.1 and BA.2 found there was an increased transmission for unvaccinated people, and a reduced transmission for booster vaccinated people, compared with fully vaccinated people," she said, citing a non-peer reviewed study of Danish households.
"The TGA acknowledges that research is ongoing to directly assess the impacts of the more recent variants of concern on transmission, noting that vaccines to address viral variants are still under development. It is important to note that whilst dampening transmission of Covid-19 is important, the purpose and approved indication of Covid-19 vaccines is to prevent serious illness and death."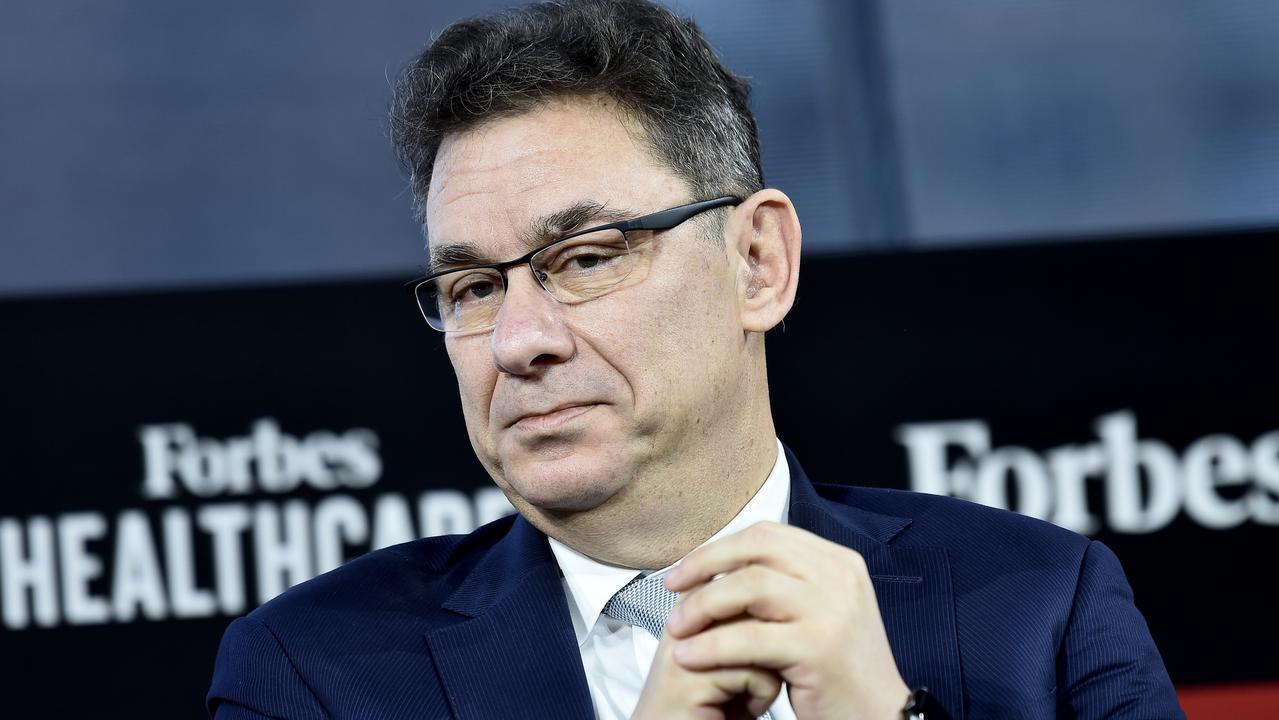 Pfizer CEO Albert Bourla. Picture: Steven Ferdman/Getty Images
She said all of the provisionally approved vaccines had "over 60 per cent efficacy, in many cases much higher, of significantly reducing the risk of severe Covid-19, including hospitalisation and death, particularly in older adults".
"Hospitalisation rates continue to be higher among those who are unvaccinated compared with those who were vaccinated with a primary series and [one or more] booster or additional dose," she added.
University of Sydney vaccine expert Professor Julie Leask told news.com.au the claim in Mr Roos' video "heavily distorts the facts".
"It exaggerates our current situation with Omicron and applies that to last year's situation with Alpha and Delta strains," she said.
"The trials had a primary outcome of reducing risk of any disease and severe disease, but not transmission. However, real-world studies rapidly looked at this too. It was logical there would be some reduction, but it was never guaranteed the vaccine would give sterilising immunity. However, If you reduce the risk of any disease, you reduce the risk of transmission because that person didn't get Covid in the first place to pass it to others. If you reduce your symptoms you tend to pass on less virus to others too."
Prof Leask conceded "the messaging to the public varied".
"Many of us were trying avoid over-promising on the vaccine's capacity to provide complete infection prevention until we had good evidence," she said.
"We had experience from other vaccines like influenza and whooping cough which also don't always stop infection but do protect people from severe disease. So vaccinologists were carefully studying this. However, there was a greater emphasis on being vaccinated to protect others because that is what the data showed at the time. New variants changed that situation — for now. With better targeted vaccines, we may again see greater capacity to reduce transmission."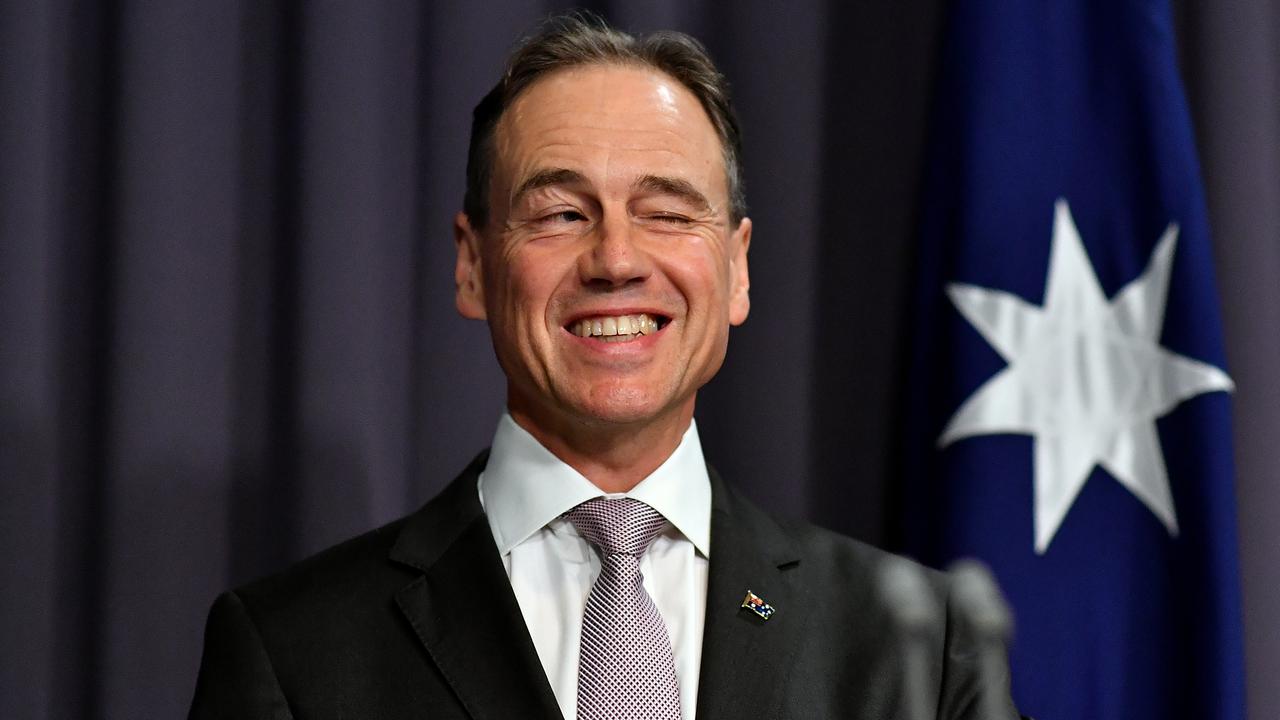 Former Health Minister Greg Hunt in March 2021. Picture: Sam Mooy/Getty Images
Speaking to reporters in February 2021, then Health Minister Greg Hunt was asked whether the AstraZeneca vaccine stopped transmission.
"What we see is that there's a significant transmission effect which was identified in the Lancet journal — there's more work to be done," he said.
"But the advice of [TGA head] Professor John Skerritt was that we have the right vaccines, and it is very important that we look at our medical authorities. And we believe we have the best medical authorities in the world. They have been absolutely clear that we have the best vaccines in the world — safe, effective and thoroughly tested."
Later in the same press conference, Mr Hunt described the rollout as the "world's largest ever clinical trial".
Asked what the "new normal" would look like once the majority of the population had been vaccinated, Mr Hunt said it would depend on "the longevity of the antibodies".
"We're engaged in the world's largest ever vaccination rollout and, at the same time, effectively, clinical trial," he said.
"We will learn more — we're already learning more."