New York City officials are scrambling to find housing for thousands of "asylum-seekers" expected to arrive at the sanctuary city once Title 42 lifts on Thursday.
Authorities may even shut down large sections of city streets for temporary housing, according to a spokesperson for City Hall.
"We are literally considering everything at this point (in terms of housing options) and yes the city is considering housing asylum-seekers on NYC streets," the spokesperson told Fox News.
CBS2 first reported the plans to close city streets, which were revealed in a confidential memo obtained by the outlet.
City officials believe as many as 800 asylum-seekers will begin to arrive daily once the Title 42 public health order lifts, according to the report.
"Those stunning numbers were found in a confidential memo obtained by CBS2 that lays out the housing options Mayor Eric Adams will have to consider as the numbers swell from the over-61,000 who have already come here to as many as 100,000 by the next fiscal year," the report said.
Adams' press secretary Fabien Levy declined to comment on the reported memo.
"While we do not discuss internal discussions, we've been clear that the burden of caring for asylum-seekers shouldn't fall on any one city alone," Levy said in a statement.
"We have reached our limit of new shelters that we can open right now, and we currently have no other option but to temporarily house recent arrivals in gyms," he continued. "This weekend alone, we received hundreds of asylum-seekers every day, and with Title 42 set to be lifted this week, we expect more to arrive in our city daily. We are considering a multitude of options, but, as we've been saying for a year, we desperately need federal and state support to manage this crisis."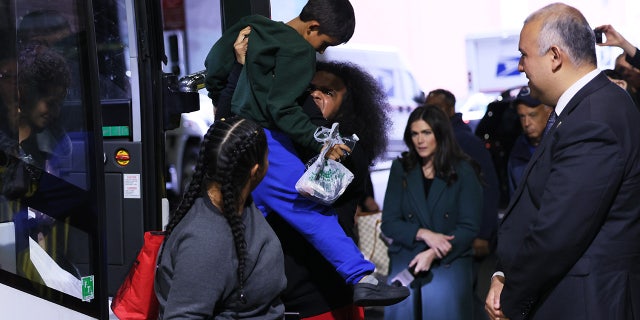 Title 42 has been used since 2020 to expedite removal of hundreds of thousands of illegal aliens because of the coronavirus pandemic.
When the order lifts, tens of thousands of migrants are expected to surge over the southern border, believing that they have a better chance of being admitted into the United States. The Biden administration has said that is not true, emphasizing that persons who cross the border illegally face stiff penalties, including deportation.
However, the prospect of mass releases into the U.S. interior of those who have illegally entered the U.S., after crossing multiple countries to do so, is likely to undercut that narrative.
Closing large sections of streets in several neighborhoods for temporary housing is one option for New York City to deal with the incoming crisis.
"Being on the street bed would provide access to water, sewer and electricity and could then support trailers or modular/prefabricated housing," the memo reportedly states.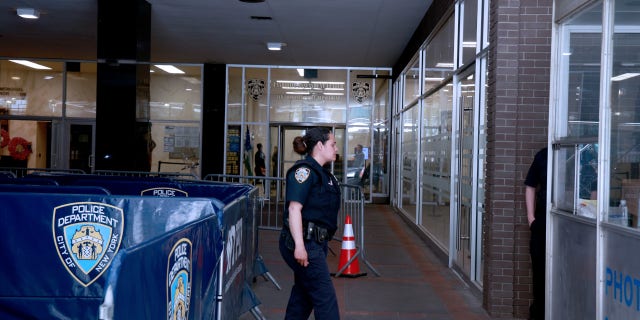 Another possibility is for the city to use rehabbed shipping containers or tiny houses to put a roof over migrants' heads, CBS2 reported.
Officials are also reportedly considering using cruise ships and federal installations like Fort Dix in New Jersey to comply with New York's right-to-shelter law.
Schools were floated as yet another possibility because of their gymnasiums, as well as access to kitchens and dining facilities.
Local officials in Rockland and Orange counties blasted Adams earlier this week for plans to bus hundreds of migrants to their area with little notice.
Rockland County Executive Ed Day, a Republican, told Fox News on Monday that officials in Orangetown – located at the county's southeast corner on the New Jersey line, and less than 30 miles upriver from Manhattan – were contacted by Adams' office to make them aware of the plan.
"It's a done deal. That's the bottom line. The pointed question asked of the mayor was very simple: Are these people vetted? He didn't know," Day said on "Your World."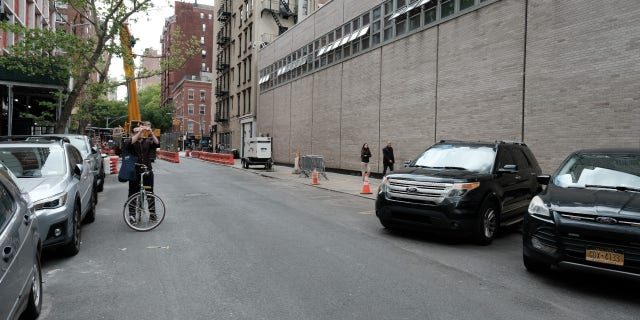 On Tuesday, New York Gov. Kathy Hochul signed an executive order declaring a disaster emergency, which is intended to boost support for migrants by expanding state and municipal procurement capabilities.
It will allow New York State to mobilize an additional 500 members of the National Guard, who are currently providing logistical and operational support at New York City's Port Authority Bus Terminal and shelter sites, bringing the total mobilization to about 1,500 service members.
The order will also allow the state to deploy more than $1 billion to support New York City's aid efforts included in the state budget for the 2024 fiscal year, the governor's office said.
In a fiery statement, New York GOP Chair Ed Cox condemned Democratic officials from President Biden all the way down to Hochul and Adams as "participants in the failure to secure our border."
"Starting at the top, Joe Biden has rolled out the welcome mat for illegal immigrants – over five million have crossed our southern border since he took office – and the crisis will get worse with the expiration of Title 42," Cox said.
"Kamala Harris, who is ostensibly in charge of the border crisis, and Alejandro Mayorkas gaslight the country by insisting the border is closed and secure – but just 60,000 of those 5 million have created a crisis beyond New York City's ability to handle, as the City considers using more of its iconic landmarks to house migrants, including a potential tent city in Central Park," he continued.
"The City is trying to force saner suburban jurisdictions, which have made no claim to be sanctuary areas, to share the burden, instead of calling out the one person who can do anything about it: Joe Biden.
"Kathy Hochul, Eric Adams, Chuck Schumer and Kirsten Gillibrand could alleviate this crisis by demanding in no uncertain terms that Joe Biden close the border," he said.
"All four lack the political will to challenge a President of their own party. New Yorkers will continue to pay the price for their inaction, as the illegal immigrant crisis here and nationally continues to spiral out of control."
Fox News' Bill Melugin, Adam Shaw, Danielle Wallace and Charles Creitz contributed to this report.