The Florida Department of Health will now tell parents not to give their children the COVID-19 vaccine if they are healthy.
Florida Surgeon General Dr. Joseph Ladapo made the announcement Monday during a roundtable discussing "failures" of the COVID-19 response in the state. The announcement goes directly against the U.S. Centers for Disease Control and Prevention (CDC), which strongly recommends vaccination in children ages 5 and older. The CDC claims that since the beginning of the COVID-19 pandemic, the virus has become "one of the top 10 causes of death" for young unvaccinated children.
The move, which will be the first taken in any state in the country, has not been officially announced by the Florida Department of Health. However, Ladapo was confident in its future.
"The Florida Department of Health is going to be the first state to officially recommend against the COVID-19 vaccines for healthy children," he said. "We're kind of scraping at the bottom of the barrel, particularly with healthy kids, in terms of actually being able to quantify with any accuracy and any confidence the even potential of benefit."
More than 12 million cases of COVID-19 have been reported in children since the beginning of the pandemic, accounting for 19 percent of all U.S. infections, according to the American Academy of Pediatrics. The week ending on February 24 saw children make up 26.2 percent of COVID-19 infections in the country.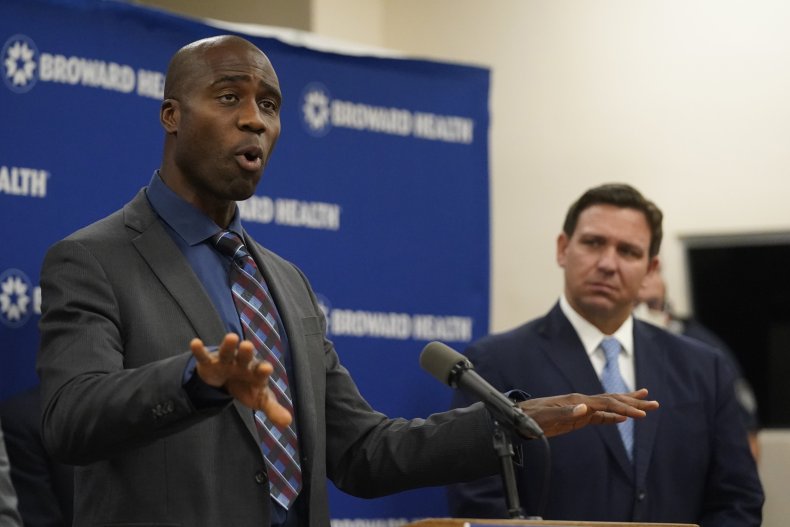 "The data [is] clear," UF Health professor Dr. Sonja Rasmussen, who studies epidemiology and pediatrics, told Newsweek in an email, "the benefits of COVID-19 vaccine in children outweigh the very small risks associated with it."
Rasmussen went on to say that the recommendation made by Ladapo not only went against the CDC's rules but the American Academy of Pediatrics recommendations, as well. She said that parents with concerns about the COVID-19 vaccine should talk with their child's pediatrician before making a decision regarding vaccination.
This new proposed recommendation comes as Florida ramps up its distancing from COVID-19 regulations and mandates. Last week, Governor Ron DeSantis sparked controversy after telling students at the University of South Florida to take off their masks, calling the gesture "COVID theater" and doubling down on the remarks.
"The political science show cannot go on," wrote DeSantis on Twitter. "It's curtain call for COVID theater."