The Polk County Sheriff's office in Florida announced Wednesday the arrest of over 100 people in "Operation March Sadness 2," a six-day human trafficking sting operation that also saw three people who work in various capacities for Disney resorts and parks arrested.
The sheriff's office said 108 people in total were arrested, including one woman charged with human trafficking, four people charged as child sexual predators for allegedly communicating sexual content to undercover officers posing as minors, and dozens of others charged for either seeking or offering prostitution.
The U.S. State Department estimates that nearly 25 million people are a victim of human trafficking at any given time across the globe in various forms ranging from forced labor to sex trafficking.
Authorities said the operation was designed to find and free victims of human trafficking, and identify and arrest people who may be involved. One of the people who was identified as a Disney employee, a 27-year-old lifeguard at a resort, was arrested for allegedly sending sexual images and messages to an officer who was posing as a 14-year-old girl online.
"The arrests of a human trafficker and four child predators alone makes this whole operation worthwhile," Sheriff Grady Judd said in a statement. "The on-line prostitution industry enables traffickers and victimizes those who are being trafficked. Our goal is to identify victims, offer them help, and find and arrest those who are profiting from the exploitation of human beings. Johns fuel the trafficking and victimization. Where there is prostitution, there is exploitation, disease, dysfunction, and broken families."
The oldest suspect arrested was a 67-year-old man, while the youngest was a 17-year-old, both accused of soliciting a prostitute, the sheriff's office said.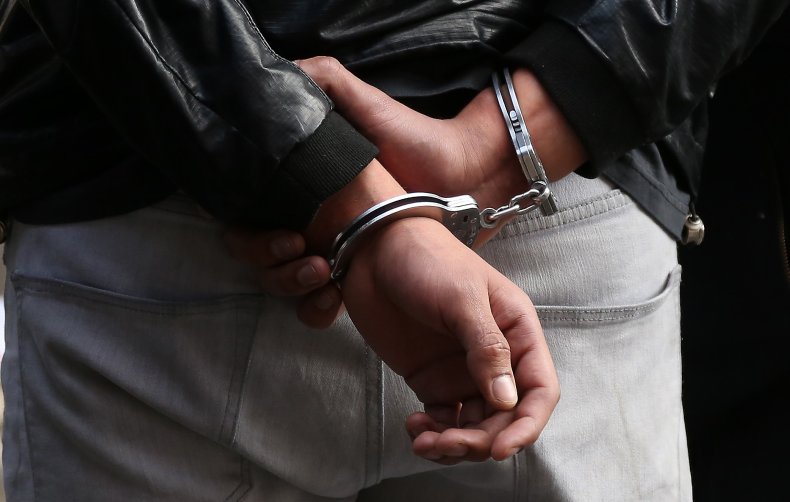 A 32-year-old Orlando woman was the lone human trafficking suspect arrested and was accused of threatening another woman with violence if she didn't prostitute herself. She allegedly intended to take the victim's money and was arrested when she came to check on her.
The sheriff's office said they identified several advertisements posted online by people offering prostitution services, as well as the people who had responded to the ads. Many were arrested at proposed meeting locations.
One of the alleged Disney employees was arrested for the alleged communication with the officer posing as a minor, while three others were arrested for soliciting a prostitute.
A Disney spokesperson told Newsweek that one of the men identified and accused of soliciting a prostitute does not work for the company, while the other three have been placed on unpaid leave.
A 42-year-old man charged with solicitation allegedly told police that he is a married father of eight children and that he left one of his kids' soccer games to meet with a prostitute.