Communications to Shetland have been severely disrupted after a subsea cable was damaged.
Police have declared a major incident after the south subsea cable between the islands and the mainland was cut.
The force said some landlines and mobiles were not usable and that officers were patrolling to try to reassure residents.
Repairs to another cable connecting Shetland and Faroe are ongoing after it was damaged last week.
First Minister Nicola Sturgeon said it was an emergency situation for the island.
The Scottish government's resilience committee had met and was working with partner agencies to ensure support was provided, she added.
She said the assumption was the damage was accidental, adding: "There is nothing to suggest otherwise, but work is continuing to assess exactly what the cause of the problem has been."
MP for Orkney and Shetlands Alastair Carmichael told the BBC he had raised the issue with the UK government, but understood it could be days before communications were restored.
He said the priority was fixing the issue but that resilience would also need to be looked at in future.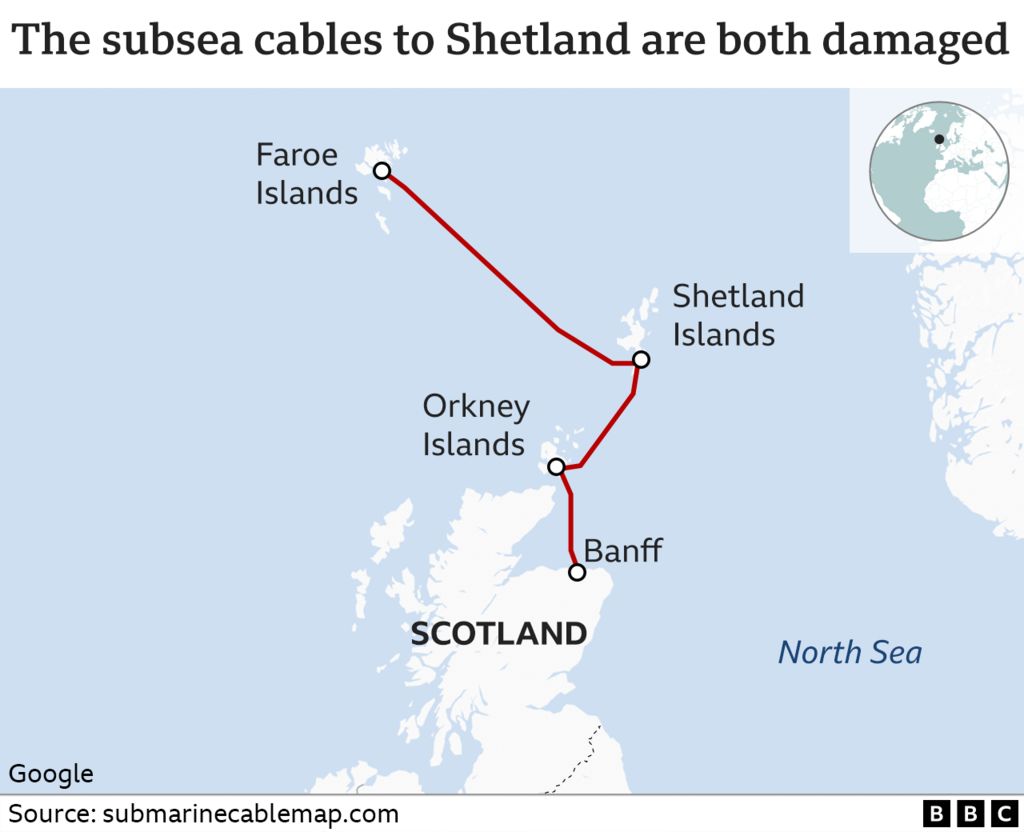 Homes and businesses are affected across the isles, which are 130 miles (210 km) from the Scottish mainland and have a population of about 23,000.
The BBC has heard reports that many shops are unable to take card payments.
Meanwhile Highlands and Islands Airports told the BBC that Sumburgh Airport was "operating as normal", but would advise passengers to contact Loganair for further updates.
Serco NorthLink Ferries confirmed they did not anticipate the problem would have any impact on sailings.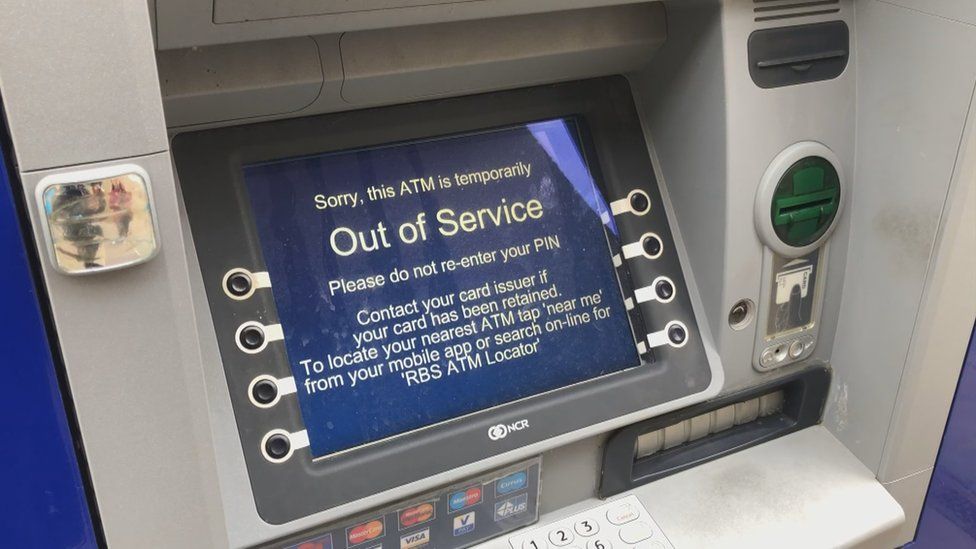 A BT Group spokesperson said: "Due to a break in a third-party subsea cable connecting Shetland with the Scottish mainland, some phone, broadband and mobile services are affected.
"Engineers are working to divert services via other routes as soon as possible and we'll provide further updates. Our external subsea provider is also looking to restore their link quickly.
"Anyone who needs to call 999 should try their landline or their mobile, even if they don't have signal from their own mobile provider. We're sorry for any inconvenience."
Emergency services have had to implement temporary back-up arrangements.
Police Scotland said it was working with partners including the Scottish Fire and Rescue Service and HM Coastguard to bring additional emergency support to the island.
The force said an emergency hub had been set up in the Tesco car park in South Road, Lerwick.
Ch Insp Jane Mackenzie told the BBC's Good Morning Scotland programme that police officers would be more visible on the island in the meantime.
She said: "We're still trying to work to establish the full extent of the problem – we know there are some telephone lines working, 999 lines are believed to be working and some mobile networks are still working.
"So anyone calling 999 should be able to do so from a mobile phone. What we would ask is if you have an emergency you should first try a landline or mobile to call 999.
"If that doesn't work, you should flag down an emergency service vehicle that isn't using their blue light or attend either a police station, hospital, fire or ambulance station to report the emergency."
Two cable problems 'rare'
Ch Insp Mackenzie urged the public not to use phone lines for non-urgent calls and to check on elderly or vulnerable people more frequently as assistance alarms may not be operating effectively.
The cable that was damaged between Faroe and Shetland last week will be repaired on Saturday, according to Faroese Telecom's head of infrastructure Páll Vesturbú.
He said: "The damage is affecting most of telecom services to Shetland. There are some services still working but we will try to establish more services during the day if that's possible.
"We expect it will be fishing vessels that damaged the cable but it is very rare that we have two problems at the same time."
MP Alistair Carmichael added that the damage had caused "catastrophic impact".
He said: "Communication is critical to modern life, to business, to the emergency services and education – just about every aspect of modern life.
"It's like somebody has flipped a switch and taken us back 20 or 30 years. You live in an island community, you know sometimes these things happen and that's why we have to learn the lessons from this."
How do subsea cables work?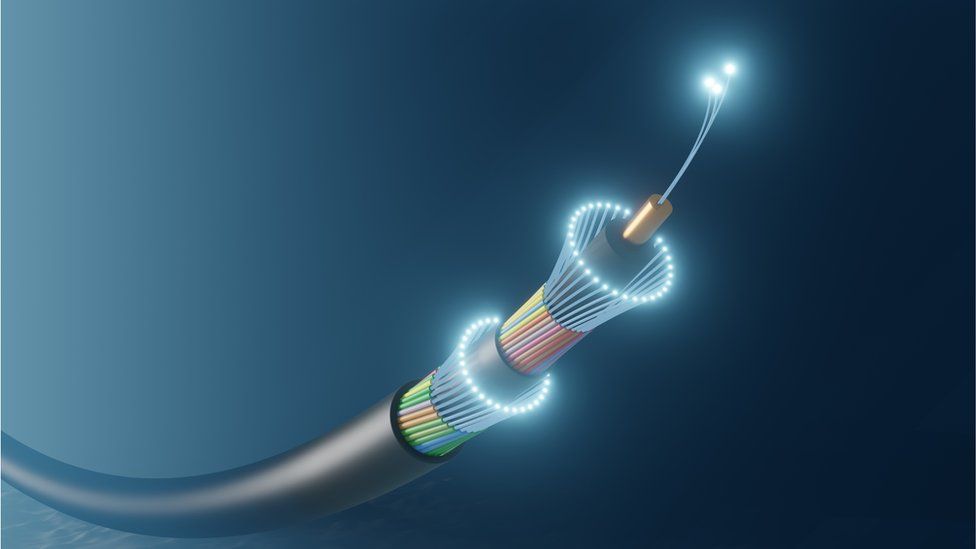 Modern submarine cables use fibre optic technology and are typically as wide as a garden hose, according to telecoms market research firm TeleGeography.
It explains lasers on one end fire at extremely rapid rates down thin glass fibres to receptors at the other end of the cable.
These glass fibres are wrapped in layers of plastic – and sometimes steel wire – for protection.
Cables lie on the ocean floor, while nearer to the shore they are buried under the seabed for additional protection.
The firm said "considerable care" is taken to make sure cables avoid fault zones, fishing zones, anchoring areas and other dangers.
Ian Brown, a partner with Lerwick-based internet provider Shetland Broadband, said he became aware of a problem just after 00:00 on Thursday when his home broadband went off.
He said the north cable was broken on 15 October in a clean break, but the southern one was not a clean break because there are around 100 fibres in the cable – and not all had been broken.
Shetland Broadband is still operational because the fibres it uses were not damaged.
Mr Brown said the impact ranged from minor inconvenience for islanders to disruption to businesses and local NHS services that rely on their online connection.
He said Shetland Broadband was working with the NHS to try and resolve its issues.
In another example, he said a delivery of 2,000 parcels to the islands encountered problems as they could not be scanned.
Mr Brown said: "We don't know if the cable was hooked up by a ship or lifted and caught by the currents. It is a very rare event, a bit like storm damage."